Coming Up
11/03/2012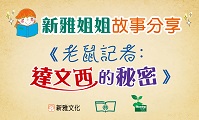 The Tale of Pin Yin Panda storytelling by the author – Sarah Brennan (11/03/2012)

Pin Yin is a giant panda living in the misty Sichuan forests in China...... but she isn't just any giant panda. She's got beauty, brains and a healthy ego to match! So on Chinese New Year's Eve, she makes a surprise announcement: - this year is going to be The Year of the Panda!
Will the tradition of millennia be swept aside or will this practically perfect panda be put in her place? And what does the Edinburgh Zoo have to do with it?
Find out from the author in her funny rhyming tale of ambition, vanity and a very famous Race........ on Saturday, 11 March 2012.
About the author:
Sarah Brennan is the author of the best-selling Chinese Calendar Tales. Born in Tasmania, Australia, she grew up on the slopes of Mount Wellington surrounded by bush animals, goats and exotic poultry. She wrote lots of stories and poems which she kept in a big pink plastic bag! Before moving to Hong Kong in 1998, she was a medical lawyer in London. Visit her funny and fabulous website at www.sarah-brennan.com.
About the Illustrator:
Harry Harrison (Robert Harrison), nicknamed "Harry", is the illustrator of the iconic Harry, political cartoonist for the South China Morning Post. He is the illustrator of all of Sarah Brennan's children's books. He is also a regular contributor to The Guardian, the Wall Street Journal, Time magazine, the International Finance Review and the Far Eastern Economic Review.
Date
:
11 Mar, 2012 (Sun)
Time
:
3:30 PM - 4:30 PM
Venue
:
Olympian City Branch, The Commercial Press Shop 115, 1/F, Olympian City 1, 11 Hoi Fai Road, West Kowloon, Kln.
Speaker
:
Sarah Brennan
Host
:
Ms. Christa Tam
Organiser
:
The Hong Kong International Young Readers Festival
Co-Organiser
:
Blooming Club
Enrolment deadline
:
9 Mar, 2012 (Fri)

Enrolment is closed, thanks for your support!