Coming Up
17/03/2012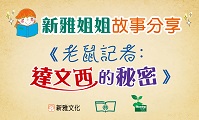 Come and meet Adeline Foo (17/03/2012)

It all started with a boy called Amos Lee who was forced by his Mom to write his diary in the toilet when he is doing his big business. The Diary of Amos Lee series has become really popular not only in Singapore but here in Hong Kong as well. With every installation of The Diary, Amos' following grows; this comes as no surprise, as many children can identify with him while they enjoy the hilarious and entertaining stories about his school, family and friends.
Come and meet its author, Adeline Foo at the book signing on 17 March 2012.
You can also meet other Young Readers Festival 2012 Authors like Sally Kindberg and Eliza Teoh, for more details please click here.
About the author:
Adeline Foo is Singaporean. All three titles in The Diary of Amos Lee (2009) series have made the Straits Times' National Best Sellers' List for more than 55 weeks. The first book, I Sit, I Write, I Flush! has also won the inaugural Red Dot award for Best Junior Fiction, 2009. Her fourth book in a companion series, Whoopie Lee: Almost Famous. It is currently on a shortlist for the Red Dot Award for 2011-12. To learn more, visit www.amoslee.com.sg.
Date
:
17 Mar, 2012 (Sat)
Time
:
12:00 PM - 1:00 PM
Venue
:
Tsimshatsui Book Centre,
The Commercial Press Shops B1007-1010, B1/F., Miramar Shopping Centre, 132 Nathan Road, Tsimshatsui, Kln.
Speaker
:
Adeline Foo
Organiser
:
The Hong Kong International Young Readers Festival
Co-Organiser
:
Blooming Club
Enquiry
:
2877 9770 (Festival Hotline)
Enrolment deadline
:
17 Mar, 2012 (Sat)

Enrolment is closed, thanks for your support!