Your location: Contact Us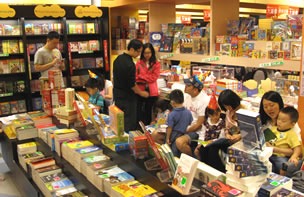 Established in 2009 by The Commercial Press (H.K.) Ltd with the principal objective of helping children discover the pleasure of reading, Blooming Club has grown tremendously thanks to our readers?support.
Blooming Club's special book corners have been set up in various branches of The Commercial Press (H.K), specializing in children's books ?both Chinese and English from baby & toddler to young adult. Not only that, at this shop we offer a wide variety of educational toys which complement the books and aid learning through play. In addition, we have bestsellers and leisure reading books for parents/adults, from where we can better serve our members, schools and parents, and most important, to offer a one-stop shopping destination for the whole family.
Blooming Club Children's Books Corner - Tsimshatsui

Address
Shops B1007-1010, B1/F., Miramar Shopping Centre,
132 Nathan Road, Tsimshatsui, Kowloon.
Opening hours
Monday to Sunday:
11:00 a.m. to 9:30 p.m.
(Including public holidays)

Phone
(852) 2904 1988
Fax
(852) 2562 5978
E-mail
cs@supretail.com.hk