Coming Up
23/04/2017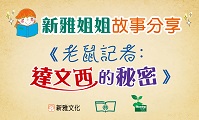 老鼠記者《奇鼠歷險記》見面會 Meet & Greet Geronimo Stilton at The Commercial Press! (22/04/2017 ~ 23/04/2017)

老鼠記者———謝利連摩.史提頓首次到訪商務印書館分店,萬勿錯過!
老鼠記者與他的朋友們從書中走到現實世界,來到書店與各位小讀者見面!
Blooming Club誠邀各位小讀者到來,把握機會與喜歡的角色一起渡過愉快的午後時光吧!
康怡分館:
2017年4月22日(星期六) 下午1時至下午4時
鰂魚涌康山道1號康怡廣場2樓S39號
銅鑼灣兒童天地:
2017年4月23日(星期日) 下午1時至下午4時
香港銅鑼灣怡和街68號地庫
DON'T MISS GERONIMO STILTON FIRST EVER VISIT TO BOOKSTORES OF
THE COMMERCIAL PRESS!
Geronimo Stilton and his friends will be visiting our bookstores to meet our little readers!
Blooming Club would like to invite all of you to meet and greet your favourite characters
in our bookstore, and enjoy the afternoon with Geronimo.
Kornhill Branch:
22 Apr 2017 (Sat) 1pm - 4pm
Shop S39, 2/F., Kornhill Plaza, 1 Kornhill Road, H.K.
Causeway Bay Kiddyland:
23 Apr 2017 (Sun) 1pm - 4pm
Basement, 68 Yee Wo Street, Causeway Bay, H.K.
========================================
老鼠記者 - 謝利連摩.史提頓《奇鼠歷險記》音樂劇
老鼠記者—謝利連摩.史提頓為了拯救仙女國皇后而展開一場《奇鼠歷險記》。
要成功完成任務,他必須走進七個大門,穿越不同的王國,
讓他親自面對一眾女巫、美人魚、巨龍、精靈、小矮人、小仙女,與及巨人!
演出詳情:
2017年5月6日(星期六) 上午11時、下午2時及下午5時
2017年5月7日(星期日) 上午11時及下午2時
香港演藝學院 歌劇院(英語演出 In English)
票價:$595 / $495 / $395 / $295
Blooming Club會員獨家優惠
1) 於快達票門市出示Blooming Club會員卡。
2) 憑推廣密碼「COMMERCIALPRESS」,致電購票熱線31 2882 288或登入快達票網址購票。
即可以9折優惠購買A價、B價及C價門票!
Musical - Geronimo Stilton Live In The Kingdom Of Fantasy
Geronimo Stilton sets off on a fantastical adventure to save the Queen of the Fairies.
To succeed, he has to walk through the seven doors that transport him from kingdom to kingdom,
bringing him face to face with witches, mermaids, dragons, pixies, gnomes, fairies and a giant!
Details:
6 May 2017 (Sat) at 11am, 2pm & 5pm
7 May 2017 (Sun) at 11am & 2pm
The Hong Kong Academy for Performing Arts, Lyric Theatre(In English)
Ticket Pricing: $595 / $495 / $395 / $295
Privilege Offer to all Blooming Club Members:
1) Present your Blooming Club membership card at any HK Ticketing outlet.
2) Visit HK Ticketing website or call 31 288 288, enter the Promo Code"COMMERCIALPRESS".
Enjoy 10% discount on A, B & C-Reserve tickets.
Event date
:
22 Apr, 2017 (Sat)
Closing date
:
23 Apr, 2017 (Sun)
Venue
:
康怡分館(鰂魚涌康山道1號康怡廣場2樓S39號)/ 銅鑼灣兒童天地(香港銅鑼灣怡和街68號地庫)
Guest
:
老鼠記者 - 謝利連摩.史提頓與他的朋友 Geronimo Stilton and his friends
Organiser
:
Mei Live Limited
Co-Organiser
:
Scholastic、Blooming Club
Enquiry
:
2976 6607 Domenica WONG