Coming Up
29/01/2012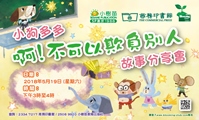 Explore the exciting world of the Toppee Town™ storytelling workshop (29/01/2012)

Explore with your child as you learn about the exciting world of the Toppee™ in this stimulating and interactive storytelling workshop. Led by professional storyteller Donner Lee of Kids' Gallery, your child will be inspired by the Toppee Town™ stories, sing songs, and play games. They'll also see the stories come alive as they meet the Toppee™ characters in person! The session will end with an arts and crafts activity where children get to make and decorate their very own bookmark.
This storytelling workshop offers a totally engaging experience focusing on the key aspects of storytelling and including songs, games, arts and crafts. It will help instill a love of reading whilst developing your child's English language skills.
Join us for Toppee Town™ stories on 29 Jan.
*Perfect for children aged three to six.
About the storyteller:
Donner Lee, Deputy Director of Kids' Gallery Hong Kong, will lead this interactive session. Donner is a trained and experienced storyteller who has delivered many such sessions before.
Date
:
29 Jan, 2012 (Sun)
Time
:
3:00 PM - 4:00 PM
Venue
:
Tsimshatsui Book Centre,
The Commercial Press Shops B1007-1010, B1/F.,
Miramar Shopping Centre,
132 Nathan Road,
Tsimshatsui, Kln.
Speaker
:
Ms. Donner Lee
Organiser
:
Blooming Club
Co-Organiser
:
Kids' Gallery Hong Kong
Enrolment deadline
:
29 Jan, 2012 (Sun)

Enrolment is closed, thanks for your support!