Author of the Month
2018
2017
2016
2015
2014
Your Location: Author of the Month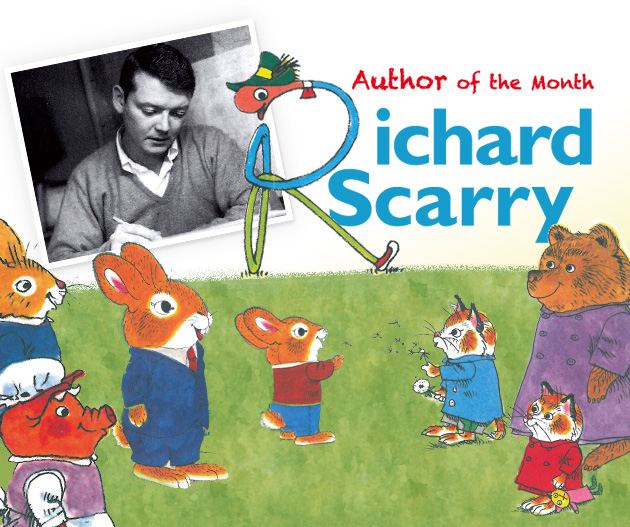 Richard McClure Scarry (June 5, 1919 - April 30, 1994) was born in Boston, Massachusetts, where his parent ran a shop. He entered the School of Museum of Fine Art, Boston, after dropping out from a business college, and remained until being drafted into the U.S. Army during World War II. Scarry worked for various magazines after the war and had his career breakthrough with Little Golden Books in 1949, then began turning out his original books in 1955. His characters, who were mostly animals such as Lowly Worm, Huckle Cat and Sergeant Murphy , were very popular with children throughout the world. Until now, 300 books were published, written and illustrated by this popular American children's author, with total sales of over 100 millon units worldwide. And most of his titles have translated into dozens of languages.
Millions of children the world over have grown up reading Richard Scarry's (1919 – 1994) books. His characters have entertained and delighted generations of children. 20 years after his death, his bestselling Best Word Book Ever, first published in 1963, has just celebrated its 50 anniversary; illustrated in signature Richard Scarry style, the colourful details packed under each theme, be it a meal time, at the zoo, tools or keeping healthy, the familiar animal characters dressed like humans captivate curious young minds who spend hours exploring the world they inhabit and learning from them the names of every item on the page, expanding children's knowledge and vocabulary without them even realizing it.
Coinciding with the 50th anniversary of Best Word Book Ever, Best Lowly Worm Book Ever, a newly discovered book written by Richard Scarry and completed by his son, Huck Scarry (nicknamed after Huckle Cat, the famous character in his father's books) has been published for the first time recently. Young readers can follow the charming Lowly Worm through a typical day in his busy life which includes going to school, helping on the farm, assisting other busy workers and travelling in some of his amazing vehicles. There is always a clatter of activity to look at and talk about on every page! Apart from the action and humour in every scenario, children can even learn good manners from Lowly Worm!
Learning is made so much more fun with Huckle Cat and Lowly Worm as the lovable animal characters introduce counting, the alphabet, shapes and sizes, colours, manners and so much more in Best First Book Ever.
In What Do People Do All Day, children get a glimpse of the different kinds of professions people have and how people are related to each other. This provides a wonderful foundation for them to understand the society they are in.
This is why Richard Scarry's books are still in print in more than 20 languages all over the world.
As I read his books, I always picture a very young Richard Scarry who observed the world around him carefully and recorded them in his inimitable way. I remember reading somewhere that when he was asked to do a shopping list as a little boy, instead of putting down in words, he always drew pictures. I'm not surprised! It is a wonderful treasure that he has left us to enjoy for years to come and now his son is carrying on his legacy.
His best-loved stories can be found in bumper collections - Best Bedtime Stories Ever and Best Funniest Stories Ever. They are perfect for story time at home so come and get your very own copies from Blooming Club soon!
Also Available:
Total 14 items
Order:
Page / Total 1 pages Each page items
Page / Total 1 pages Each page items