Author of the Month
2018
2017
2016
2015
2014
Your Location: Author of the Month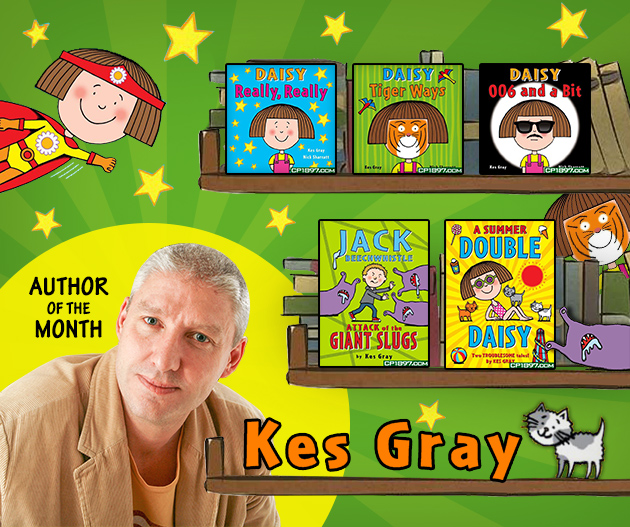 Kes Gray
An author of more than fifty books for children of all ages. Kes was noted by The Independent as one of the top ten children's authors in the UK in 2003.
Kes loves to write, he produced his first and most acclaimed picture book to date, Eat Your Peas, which was published in 2000 and became the first picture book in ten years to win the coveted overall prize at the 2001 Federation of Children's Book Awards. The same year it won the overall prize at Sheffield, and was the picture book category winner at Stockport and the Experian Big 3 Awards. In 2002 Eat Your Peas was shortlisted for the Blue Peter Book Award.
Since 2001, when his first ever picture book became the overall winner of the prestigious Red House Children's Book Award. He has become a three-time category winner, and the only author in the history of Award to win prizes for both picture book and fiction story writing.
He is also the author of Zippo the Super Hippo, Oi Frog! and titles in the acclaimed Daisy young fiction series.
Kes now lives in Essex with his wife, children and an assortment of animals.
Award includes:
Eat Your Peas
- Overall Winner of the Children's Book Award
- Overall Winner Sheffield Children's Book Awards
- Best Picture Book Stockport Children's Book Awards
- Best Picture Book Nottingham Children's Book Awards
- Shortlisted Blue Peter Book Awards
Billy's Bucket
- Best Picture Book Red House Children's Book Awards
- Best Picture Book Nottingham Children's Book Awards
- Best Picture Book Sheffield Children's Book Awards
Oi Frog!
- Bishop's Stortford Picture Book Awards 2014
Daisy and the Trouble with Zoos
- Winner Best Young Fiction Red House Children's Book Award
Gustav Gloom Series:
Total 5 items
Order:
Page / Total 1 pages Each page items
Page / Total 1 pages Each page items