Author of the Month
2018
2017
2016
2015
2014
Your Location: Author of the Month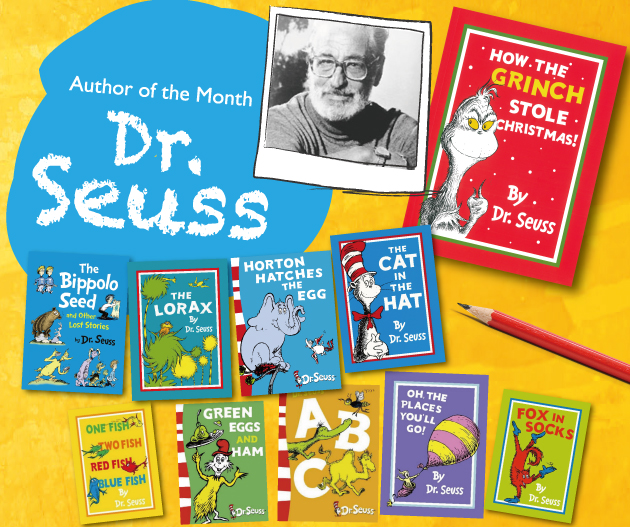 With Christmas decorations and illuminations up at shops and malls all over Hong Kong, as well as a timely drop in temperature, we finally feel that winter is here and we are getting into the Christmas holiday season!
But sometimes it is easy to forget what Christmas is all about amid the bustle of Christmas preparations. Dr. Seuss's much-loved classic How the Grinch Stole Christmas is the perfect story to share with children the true meaning of Christmas. This month, let's pay tribute to Dr. Seuss, our Author of the Month, who has delighted millions of children and helped them to learn from his many brilliant books for more than five decades.
About Dr. Seuss
Geisel Theodor Seuss (2 March 1904 – 24 September 1991) – better known to millions of his fans as Dr. Seuss – was born the son of a park superintendent in Springfield, Massachusetts, in 1904. After studying at Dartmouth College, New Hampshire, and later at Oxford University in England, he became a magazine humorist and cartoonist and an advertising man. He soon turned his many talents to writing children's books, and his first book – And To Think That I Saw It on Mulberry Street – was published in 1937. His greatest claim to fame was the one and only The Cat in the Hat, published in 1957, the first of a successful range of early learning books known as his Beginner Books.
With his unique combination of hilarious stories, zany pictures and riotous rhymes, Dr. Seuss is firmly established as a global best-seller, with nearly half a billion books, has been delighting young children and helping them learn to read for over fifty years.
How the Grinch Stole Christmas (For 3+ Readers)
How the Grinch Stole Christmas, a favourite for reading at Christmas, was published in 1957. Dr. Seuss has succeeded in the critique of the commercialisation of Christmas through this story of a loveable villain, The Grinch, without being preachy.
Every "Who" down in "Who-ville" liked Christmas a lot... But the grumpy Grinch, who lived just north of Who-ville, did NOT! He hated Christmas! He came up with the wonderful, but awful idea to stop Christmas - but he soon realized there's more to it than presents and tinsel! Young readers will be delighted to find out that the mean spirited Grinch's heart which was two sizes too small in the beginning of the story grew three times in the end after the lesson learnt.
Join our Story Time: How the Grinch Stole Christmas told by Auntie Christa to find out how the grumpy Grinch tried to steal it from the citizens of Who-ville.
The Bippolo Seed and Other Lost Stories (For 6+ Readers)
In 2011, The Bippolo Seed and other Lost Stories by Dr. Seuss was published, his first new book for over 20 years! This collection is the rarest of things - they were published in magazines in the early 1950s and are finally available in book form.
The Bippolo Seed is about a scheming cat who tempts a duck to wish for more than she needs after she came upon a Bippolo Seed the planting of which grants all that one can wish for. As expected, duck's greed results in the loss of the seed.
Other stories include The Rabbit, the Bear, and the Zinniga-Zanniga, about a rabbit who is saved from a bear via a single eyelash; Gustav the Goldfish, about a fish that grew and grew; Tadd and Todd, a tale about twins; Steak for Supper, about fantastic creatures who follow a boy home in anticipation of a steak dinner; The Strange Shirt Spot, about a spot of dirt that gets everywhere; and The Great Henry McBride, about a boy whose far-flung career fantasies were bettered only by those of Dr. Seuss himself.
Do not miss this collection of rediscovered treasures! They are entertaining, beautifully written and packed with crazy characters and humour!
The Lorax (For 6+ Readers)
Published in 1971, The Lorax is the original eco-warrior and his message rings loud today. That was long before we are talking about protecting the environment; Dr. Seuss's Lorax spoke for the trees, because the trees have no tongues. He tried to save the Truffula trees from the greedy Once-ler and Family who made a Thneeds out of Traffula trees. Sadly, there was little that he could do. Once-ler felled more trees and turned more into Thneeds which everyone needs until there were no more! In the end all that was left was a big empty factory… the Lorax and the narrator.
All was not lost as the Once-ler gives the last Truffala seed to the narrator who needs to plant it, treat it with care and then the Lorax and his friends may come back.
Dr. Seuss sent a powerful message about ecological crisis in a masterful story that everyone should heed.
Horton Hatches the Egg (For 5+ Readers)
In Horton Hatches the Egg, Horton, the kind, gentle, faithful elephant, agrees to look after lazy bird Mayzie's egg. Horton is determined to face up to his responsibilities no matter what. Through rain, thunderstorm, autumn, winter, spring, captivity and finally when he was sold to a circus, he still sat on the egg. Much to lazy Mayzie's surprise when she demands her egg back; it cracks and out comes something that has ears, a tail and a trunk, just like Horton!
This delightful story about Horton has a lot of virtues patience, honesty, courage and loyalty to name just a few for youngsters to learn from and enjoy over and over again. "I meant what I said, and I said what I meant... An elephant's faithful, one hundred per cent!"
The Cat in the Hat (For 3+ Readers)
First published in 1957, The Cat in the Hat is about Sally and her brother who are left alone on a cold, cold, wet day. They think they're in for a dull day with nothing to do except sit, sit, sit – until the Cat in the Hat steps in on the mat, bring with him mayhem and madness! The door opens, not just to the Cat in the Hat, but to a world of imagination!
The fish in the bowl warns children to tell the Cat in the Hat to go away but the Cat assures them that his tricks are not bad; and thus the mayhem and madness continue. Together with friends Thing One and Thing Two, there are all sorts of tricks until their mother returns and everything is collected up just in time with the most fantastical hovering device!
Should they tell their mother they have been having so much fun? Ask your child if they would tell you if the Cat in the Hat visited them.
Written using 236 different words that any first or second grader can read, this book is the one Dr. Seuss was proudest of as it put an end to the traditional Dick and Jane "pallid primers" which "were leading to growing illiteracy among children". The success of this book has since changed the way children learn throughout the English speaking world. This book is a must on every child's book shelf.
One Fish Two Fish Red Fish Blue Fish (For 3+ Readers)
One Fish Two Fish Red Fish Blue Fish, original published in 1960, is a hilarious exploration of opposites, colours, numbers and nonsense! Dr Seuss paints a crazy world of singing Yings, boxing Goxes and seven hump Wumps. By combining the funniest stories, craziest creatures and zaniest pictures with his unique blend of rhyme, rhythm and repetition, Dr. Seuss helps children of all ages and abilities to learn to read.
This is a brilliant book to get a young child into reading as well as to spark its imagination. It is inspiring! With a change in just one word, the whole meaning can change and children will learn that "from here to there, funny things are everywhere". By the end of the story, all they have to do is keep their eyes open and look around.
Green Eggs and Ham (For 3+ Readers)
In Green Eggs and Ham, the timeless classic created by Dr. Seuss in 1960, Sam-I-am pesters a grumpy grouch to eat a plate of green eggs and ham which the latter doesn't like. Despite the rejections, Sam-I-am keeps on offering, in here or there, in a house with a mouse, in a box with a fox and in the most unexpected places with the most outrageous characters. His persistence pays off in the end when the grouch takes the offers and finds out that he loves green eggs and ham after all! This is a fantastic book with an important message to encourage children to try out new things. The rhyme, rhythm and repetition in their dialogues make them easy for children to follow along and the illustrations as always bring the story to live. Green Eggs and Ham is a must for every household with children.
Dr. Seuss' ABC (For 2+ Readers)
It is never too early to teach your child the alphabet, but how can you make it fun? With Dr. Seuss' ABC, any young child will be shrieking with laughter and find learning the alphabet as easy as ABC! From "Aunt Annie's alligator", " barber baby bubbles", "camel on the ceiling" in the beginning of the alphabet to the "Zizer-Zazzer-Zuzz" in the end. Dr. Seuss has given young learners a joyful parade though the alphabet with his most colourful, whimsical and wacky characters.
Oh the Places You'll Go (For 5+ Readers)
Oh the Places You'll Go is unlike other Dr. Seuss's books, the author takes an entertaining look at the adventures and misadventures that life may have in store for us, from fun times and triumphs to troughs and slumps.
Though written for children, this great book makes a fabulous gift for anyone entering a new stage in their lives; whether it's for graduation, marriage or new employment. It is full of wisdom for adventuring into an unknown future with positive attitude in ones pursuit of dreams.
Seuss shows readers not just the sunny side "You'll be on your way up! / You'll be seeing great sights! / You'll join the high fliers / who soar to high heights." but the potential pitfalls of life "You can get all hung up / in a prickle-ly perch. / And your gang will fly on. / You'll be left in a Lurch." But everything will work out fine if you remember "to be dexterous and deft. And NEVER mix up your right foot with your left."
Fox in Socks (For 9+ Readers)
Join the unstoppable Fox in Socks as he teaches a baffled Mr. Knox some of the quickest, slickest tongue twisters in town. This is such a mouthful! Fox in Socks plays tongue-twisting games with his friend Mr. Knox who finds them so challenging that he has to tell the Fox to stop it as he simply can't say all this silly stuff but he does get inspiration from the Tweedle Beetle's Battle with their paddles!
Take the challenge with your kids and giggle together!
The standard paperbacks divide into three reading strands – Blue Back Books for parents to share with young children, Green Back Books for budding readers to tackle on their own, and Yellow Back Books for older, more fluent readers to enjoy. Read them together, read them alone, read them aloud and make reading fun!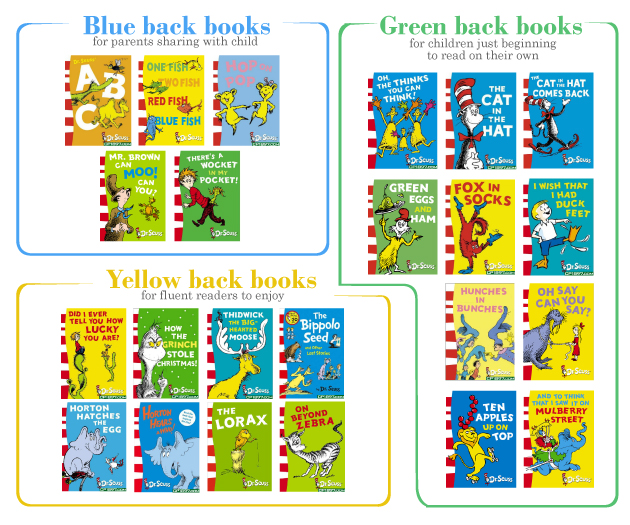 Other editions of Dr. Seuss' books:
Total 14 items
Order:
Page / Total 1 pages Each page items
Page / Total 1 pages Each page items