Author of the Month
2018
2017
2016
2015
2014
Your Location: Author of the Month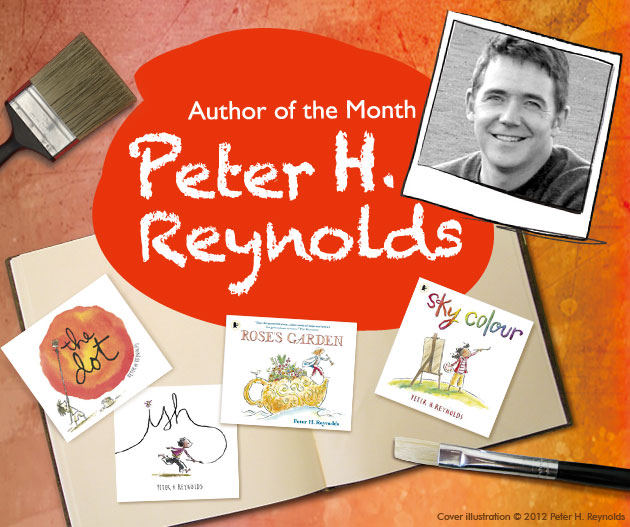 About Peter H. Reynolds
Peter H. Reynolds is the New York Times best-selling illustrator of the Judy Moody and Stink series written by Megan McDonald. He is also the award-winning author and illustrator of The North Star, The Dot and Ish. His latest book is Sky Colour.
He has noticed that children's creativity diminishes as they grow older particularly as they are taught rules to follow. He says on his website. "Through my books, I want to help give kids - and grown-up kids - the vocabulary to protect their exploration, in art, writing, and thinking." As the illustrator of Judy Moody, he explained that the character appeared to be very real to him - Judy's creation of a ME collage in book one of the series clicked with his own beliefs as an educator about the role a child's temperament can play in the learning process. He added that Stink, Judy's brother (or as she refers to him "bother"), reminds him of himself growing up: dealing with a sister prone to teasing and bossing around - and having to get really creative in order to stand tall and be noticed beside her.
Peter H. Reynolds and his twin brother, Paul (now his business partner), were born in Canada but moved to a Massachusetts suburb when they were three years old. They made their first foray into publishing at the age of seven, when they began producing their own newspapers and comic books on their father's photocopier. The two brothers are now partners at FableVision, a company dedicated to help learners discover their true potential.
Books written and illustrated by Peter H. Reynolds
Marisol loved to paint and draw and was good at it. But she got stuck when she was without any blue paints when she had to paint the sky for the school library's mural. Then she saw the spectacular sunset, she found out her that it wasn't blue as she had thought. In Sky Colour, the latest book in Peter H. Reynold's "Creatrilogy", the author is showing us once again that there is another way in creativity - think and paint in "sky colour".
Vashti thinks she can't draw but her teachers think she can. Her potential just needs to be tapped. With just one dot she helps Vashti bring out the creative spirit of the artist in her. Peter H. Reynolds' simple line drawings on a bare background in The Dot, the first in his Creatrilogy published 11 years ago, successfully convey an important message in style. Children who think that they can't draw might even start asking for crayons and paper once the last page is turned. How I wish I had had a teacher like Vashti's when I was a kid!
In Ish , the second in the author's Creatrilogy, Ramon loved to draw but lost interest in it after being criticized by his brother. That changed when his sister Marisol showed him that looking exactly right wasn't the key to his drawings – it can be "ish"! Without having to worry about being exact, Ramon started to think, feel draw and live "ish-ly". This is a brilliant book for aspiring artists.
Rose's Garden tells the charming story of Rose who sets about planting flowers in a neglected corner of a bustling city with the seeds she has collected during her travels. Then she waits – through rain, cold and snow – never doubting that her garden will one day come to life. Her belief is rewarded when her garden becomes everybody's garden as well.
Dedicated to Rose Fitzgerald Kennedy, matriarch of the Kennedy clan, who planted her own perennial garden, this heartwarming tale is a celebration of the community spirit and the power of nature, beauty and last but not least, faith. In typical Peter H. Reynolds' style, the book leaves its readers with an uplifted feeling that anything is possible.
"Peter H. Reynolds poignantly captures my mother's enduring spirit in Rose's Garden. May this powerful story... plant fresh seeds of hope and service for generations to come." (Senator Edward M. Kennedy)"
Books illustrated by Peter H. Reynolds: