Author of the Month
2018
2017
2016
2015
2014
Your Location: Author of the Month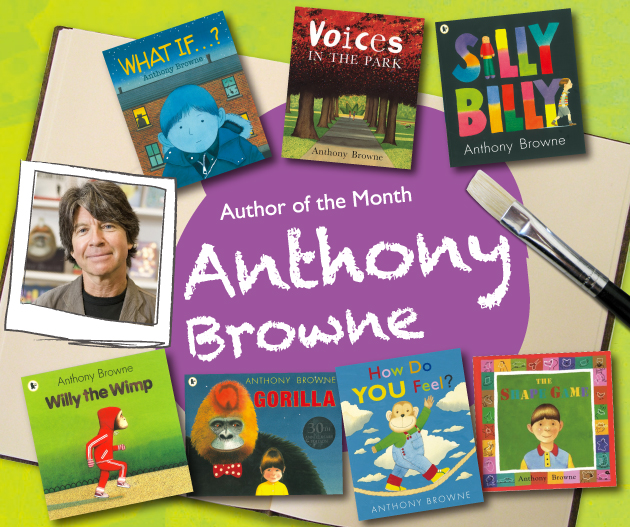 About Anthony Browne
Anthony Browne is one of the most celebrated author-illustrators working today.
He has won many prizes for his work, including the Kate Greenaway Medal (twice) and the Kurt Maschler Award (three times). In 2000, he received the highest international honour for illustration, the Hans Christian Andersen Award, for his services to children's literature – the first British illustrator to win the prize since 1956. On 9 June 2009 when Browne was made the sixth Children's Laureate in the UK, an appointment that recognises the importance of exceptional children's writing in creating the 'readers of tomorrow,' he said, "I hope to encourage more children to discover and love reading, but I want to focus particularly on the appreciation of picture books… Picture books are for everybody at any age, not books to be left behind as we grow older. The best ones leave a tantalising gap between the pictures and the words, a gap that is filled by the reader's imagination, adding so much to the excitement of reading a book."
Willy the Wimp (For 3+ Readers)
In Willy the Wimp, Willy wouldn't hurt a fly – he even apologizes when someone hits him! The suburban gorillas call him Willy the Wimp. The, one day, Willy answers a bodybuilding advertisement… with hilarious results!
Children will really giggle when they see the transformation of wimpy Willy into a strong and determined looking Willy,whose gentleness still remains unchanged. The author delivers important messages of determination against the odds with great humour through his arresting illustrations.
What If…? (For 5+ Readers)
As Joe and his mum walk down the darkening street, his imagination starts to run wild. And as they search for the right house and wonder "What if…?" They make surprising discoveries along the way.
First experiences very often cause anxiety in a child, whether it is going to the dentist, to hospital or even a friend's party. The author skilfully captures this young boy's worries about going to a friend's birthday party for the first time. Readers can see what's going through his mind as he tries to find his classmate's home. So much so that he even appears to be relieved he fails to find the house at first; the warm welcome from his classmates help change his attitude.
This is a brilliant book to help children overcome their fears. It's comforting and reassuring.
Gorilla (the 30th anniversary edition) (For 5+ Readers)
Gorilla, winner of the Kate Greenaway Medal 1983 and Kurt Maschler Award is a classic story about Hannah, a lonely girl whose father never has time for her. She loves gorillas but has never seen one. On her birthday, she receives a toy gorilla instead of the real one she has asked for from her father, who's always too busy to take her to the zoo. However, that night, she has an amazing adventure with the gorilla.
Now a classic, this original and touching story is full of surprises and a book to treasure. Its sad beginning with a rather neglected Hannah moves towards a happy ending with Dad taking finally her to the zoo on her birthday.
The pictures are stunning, little ones can read the pictures to be able to understand the stories.
Voices in the Park (For 5+ Readers)
Voices in the Park first published in 1999 is a highly interesting and original story about a visit to the park told in 4 different voices - a sad, unemployed Dad and his friendly little girl Smudge and a snobbish mom and her bored son Charles. This follows on from A Walk in the Park (published in 1997) where the two families had their first encounter. As they recount the day's outing, readers learn much about their varied points of views. While the children and their dogs had great fun playing together, there was no communication between the two parents. This stunning and seemingly simple book is multi-layered and is a book not just for older children to enjoy the story but to learn about perspectives, feelings, friendship characterization, social interactions and alienation. Each stunning picture with his careful attention to minute detail, is worth a thousand words.
How Do You Feel (For 2+ Readers)
How do you feel? Sometimes you feel happy, sometimes sad. Sometimes you even feel surprised. Anthony Browne brings all his understanding and skill to bear in this exploration of emotion for very young children. This book will reassure and help them understand how they feel, using simple words and pictures.
This book is a great first introduction to feelings.
Play the Shape Game (For 7+ Readers)
Anthony Browne invented the shape game and played with his brother as a kid and continues to play to this day. Anyone with a bit of imagination can join in. This is perfect for parents to play with children who these days spend more time on their digital gadgets in their free time. As Anthony suggested, "Let your imagination run wild and have fun!"
Over 40 top names – including Jo Brand, Quentin Blake, Emma Thompson, Sir Peter Blake, Axel Scheffler, Alain de Botton, Ian McEwan, Jacqueline Wilson, Andrew Motion and Jeremy Irons – have played the Shape Game for charity. And they've left behind brand new shapes for the reader to play along too! This simple drawing game is the perfect way to encourage a child's creativity. In partnership with Booktrust and Waterstone's, all profits are going to The Rainbow Trust charity, which provides vital support to families who have a child with a life-threatening or terminal illness.
Silly Billy (For 3+ Readers)
Billy is a bit of a worrier. He worries about hats and shoes. He worries about clouds and rain and giant birds. Most of all he worries about staying at other people's houses. His mum and dad try to help, but still Billy worries ... until a visit to his grandma's shows him how to overcome his fears with the aid of his imagination – and some tiny worry dolls.
Many children worry, just like adults. This reassuring book helps them deal with their worries in a very clever and sweet way. It is also a great story to introduce them to the culture of Guatemala where the worry dolls originated.
Some other books by Anthony Browne:
Total 17 items
Order:
Page / Total 2 pages Each page items
Page / Total 2 pages Each page items