Author of the Month
2018
2017
2016
2015
2014
Your Location: Author of the Month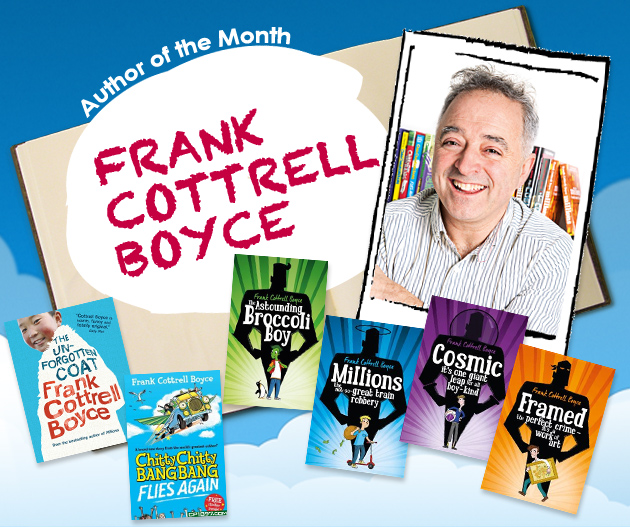 Since winning the 2004 Carnegie Medal for his debut children's book, Millions, about two boys who find a big bag of money, Frank Cottrell Boyce has established himself as a children's book writer in addition to a screenwriter. In the past decade, he has brought to different generations of readers the most inventive and magical stories.
From a 12-year-old boy who looks grown up going to space as a dad in Cosmic, an art robbery by children in a small Welsh town in Framed, a flying car in the Chitty Chitty Bang Bang series, a left-behind coat that belonged to a Mongolian refugee in The Unforgotten Coat, to a boy who has turned completely green in his latest The Astounding Broccoli Boy, he has enriched our lives with his heart-warming stories that make us laugh out loud, cry and think.
If you haven't read any of his books before, pick up a copy and read today. You won't be disappointed.
About Frank Cottrell Boyce
Frank Cottrell Boyce's books are enjoyed by different generations of readers around the world. His debut novel, Millions, published in 27 languages, won the prestigious Carnegie Medal in 2004 and was shortlisted for the Guardian Children's Fiction Award and the Blue Peter Award.
In 2012 he won the Guardian Children's Fiction Prize for The Unforgotten Coat. His books have been shortlisted for numerous other awards, including the Roald Dahl Funny Prize and the Costa Children's Book Award.
He is also the author of Chitty Chitty Bang Bang Flies Again, Chitty Chitty Bang Bang and the Race Against Time and Chitty Chitty Bang Bang Over the Moon, a series of sequels to Ian Fleming's classic novel.
Frank is a successful screenwriter, and was the official scriptwriter for the opening ceremony of the London 2012 Olympics. He has seven children and lives in Merseyside with his family.
His books
The Astounding Broccoli Boy (For 9+ Readers)
"Every story has a hero. All you have to do is make sure it's you." That's the opening of the new book. Rory Rooney doesn't choose to be a hero but something weird happens to him and he suddenly turns green. Although he likes be prepared for all eventualities, and his favourite book is Don't Be Scared, Be Prepared; he is not prepared to be green!
Locked up in an isolation ward in a hospital far from home with two other remarkably green children, Koko Kwok and Tommy-Lee Komissky, the boy who bullies him in school, Rory is as confused by his new condition as the medics seem to be.
But what if it's not in their genes, or a virus, or something they ate? What if turning green actually means you've turned into a superhero?
Rory realizes he has to work with the other children to escape in order to discover exactly what his superpower might be - after all the Incredible Hulk and the Green Goblin are green. There begin their adventures in London every night and the unexpected friendship that develops along the way.
Frank Cottrell Boyce grabs the attention of his readers on every page with his humour and likeable characters and you won't even notice that it's a 389-page book!
The Unforgotten Coat (For 9+ Readers)
Winner: Guardian Children's Fiction Prize 2012.
How would feel if your classmate suddenly disappeared without saying goodbye, leaving his coat hanging in the cloakroom? That's what happens in St. Joan of Arc Primary School in Liverpool when Chingis and his brother Nergui, two refugees from Mongolia, vanish suddenly. After trying their best to fit in their new life and bringing a lot of Mongolian experiences which have enriched their schoolmates' lives, they are gone. Though Julie, their good guide and friend, knows that they are being chased, she has no idea what they were running from... She wants to know the truth and the truth was sad.
The idea of this heartwarming story told with great humour by Frank Cottrell Boyce came from an encounter he had during his first author visit with a Mongolian girl whose presence lit up the classroom. But her family's deportation by the Immigration authorities later made the author question the government's less than civilized policy and examine the effect it has on children's lives.
This book started life as a free gift to promote the charity "The Reader Organisation" in the UK. The Unforgotten Coat is the winner of Guardian Children's Fiction Prize 2012. The book was unanimously chosen by the panel of judges made up of children's writers. They felt that Cottrell Boyce writes with such credibility and warmth that his readers will be left wiser when they have finished the story.
With the stunning and atmospheric Polaroid photos on lined paper, this record of Julie's memory of the things that happened during the last summer tern in Year 6 is a magical and poignant story.
Millions (For 9+ Readers)
Winner: CILIP Carnegie Medal 2004
Have you ever dreamt of suddenly becoming rich? How would you spend the money? In Millions, Damien Cunningham has a big bag of banknotes, £239,370 to be exact, fallen on his hermitage from a train after he has just finished his prayers. Believing the money is from God, he and his brother Anthony keep it to them shelves, even from their widowed father. Suddenly they can buy anything they want including the role of Joseph in the nativity play for Damien who is always interested in saints. Yet they also find out that money cannot buy the one thing they really need...
Told from Damien's point of view, the story covers a lot of changes after they have the money in addition to the many changes in their life before, their mother's death, moving house, changing school, that is a lot for a Year 5 boy to cope. His genuine voice speaks to readers in this funny story; and the author brilliantly talks about love, loss, greediness, generosity without preaching. It is a delight.
Cosmic (For 9+ Readers)
Dedicated to his parents, Frank Cottrell Boyce's Cosmic is about the magic of parents.
In the story, 13-year-old Liam who is incredibly tall for his age looks very grown up. He finds himself on a space Rocket, The Infinite Possibility, with four children after winning a prize as a result of being mistaken as a parent. He has his classmate Florida as his daughter. Equipped with his Dad's book called Talk to Your Teen, he embarks on the journey and learns a lot about father-child relationship along the way. As a screenwriter, the author is an expert in setting the scene in the story. The different situations Liam gets himself into are extremely funny but at the same time make readers reexamine the way children are being looked after, and the roles of dads in their life. As a father of seven children, Frank Cottrell Boyce certainly knows a lot about the magic of being a parent.
This is a lovely book will touch the hearts of both parents and children. Highly recommended
Framed (For 9+ Readers)
Dylan is the only boy living in the tiny Welsh town of Manod because all the boys have gone to work in cities. His parents run the only garage but times are tough and his father has left home, so Dylan is in charge of the petrol log and keeps track of everyone coming in and out of the town. One day when a mysterious convoy of lorries trundles up the misty mountainside towards an old, disused mine, Dylan and his friends, family and teacher have to know why. The discovery of which leads to solving a perfect art crime.
As with his other story, this one is inspired by something the author came across. This time it was a press cutting describing how, during World War II, the treasured contents of London's National Gallery were stored in Welsh slate mines. Once a month, a morale-boosting masterpiece would be unveiled in the village and then returned to London for viewing.
With the same easy mix of wit and warmth, Frank Cottrell Boyce explores how the beauty and value of art touches the life of one little boy and his big family in a very small town.
Chiltty Chitty Bang Bang Flies Again (For 9+ Readers)
Chitty Chitty Bang Bang Flies Again is the sequel the Ian Fleming's Chitty Chitty Bang Bang, first published in 1967. The thing about sequels is that might be disappointing if the first book is brilliant. But this is a very satisfying sequel that is as enchanting as the original. Here we have the head of the Tooting family losing his job and deciding to travel the world with his family in an old camper van. Little do they know that the old engine that they find in the scrapyard belonged to an extraordinary flying car before and with it their van takes them on a most amazing adventure. The author manages to take the best from the original and mixes with his own new ideas to bring the magical car with a mind of its own back to life.
This fast paced adventure with its wry humour throughout and Joe Berger's lovely illustrations, make this sequel as enchanting and as imaginative as the original, if not better.
Other titles in the series:
Chitty Chitty Bang Bang 2: The Race Against Time Chitty Chitty Bang Bang 3: Over the Moon