Author of the Month
2018
2017
2016
2015
2014
Your Location: Author of the Month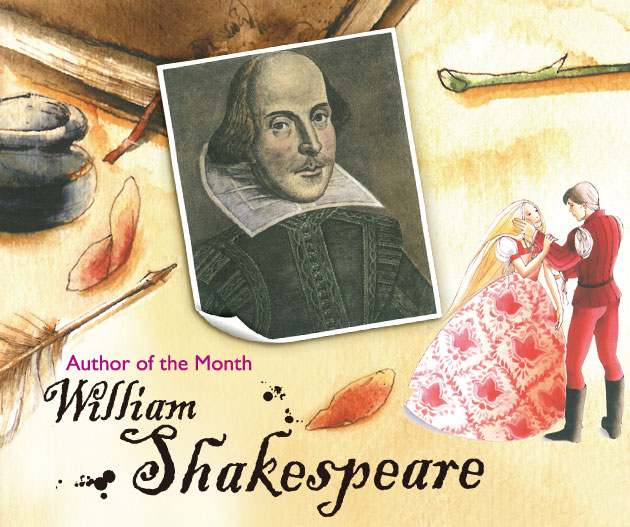 Introduction
2014 is the 450th anniversary of William Shakespeare's birth, one of the world's most celebrated playwrights. His legacy to us: 40 plays and 150 poems which have been translated into over 80 languages and are studied in secondary schools all over the world. His plays are timeless and they continue to captivate audiences from various backgrounds just as they did in his own lifetime.
Give your children a fine first experience of the Bard's creative plays as we celebrate his 450th anniversary and if you think your children are not yet able to tackle Shakespeare in his original form, try one of the many wonderful abridged editions that are perfect for young readers.
His life
William Shakespeare was born on or about 23 April 1564 in Stratford-upon-Avon, son of a skilled leather-worker. His first visit, at a very young age, to a play by wandering players at the town's Guild Hall left him with a passion for acting and writing his own plays.
He went to the local junior school and then grammar school until 14 when he had to leave school and work as a teacher as well as helping his father when the family business was in trouble. He married Anne Hathaway who inspired him to write his earliest love poems at the age of 18 in 1582.
He began to write some plays and was invited to join a group of wandering players to London to try his luck as an actor in 1587. Soon he found more success as a writer. In 1592, the Plague hit London; thousands people died and the playhouses were forced to close.
Two years later, when the playhouses reopened, Shakespeare founded a company with Richard Burbage, the best tragic actor of his time and Will Kemp, the best comedian. Their company became known as The Chamberlains' Men when the Lord Chamberlain later offered to be their patron. They opened with Richard II and Henry II which drew big audiences.  Soon William turned from stories about kings to a new subject, love. His play, Romeo and Juliet, about a young couple who fell in love against the wishes of their families became another smash hit. It was soon followed by a light hearted comedy A Mid Summer's Night Dream.
In 1596, his son died but his sadness didn't stop him from writing hit plays but they did reveal his darker side, as in The Merchant of Venice. In 1599, they opened their own playhouse, The Globe. In 1650, The Earl of Essex tried to use one of Shakespeare's plays in a plot against the Queen, Shakespeare had a narrow escape. After Queen Elizabeth's death, the new king, King James who was a fan of Shakespeare's play, dubbed the company - The Kings' Men. Shakespeare turned out play after play that pleased the King including Measure For Measure, Macbeth, King Lear, The Winter's Tale.
After many years in London, Shakespeare began to miss his family in Stratford but no one wanted him to leave. During the performance of a new drama about King Henry VIII in June 1613 where real cannon was used to mark the entrance of the King, an accident occurred and the Globe was burnt down. Shakespeare felt that it was the time to leave. Three years after he returned to his birth place, he died after a short illness on 23 April 1616.
William Shakespeare dreamed of acting and writing plays. Learn how the world's most famous playwright left the town of Stratford-upon-Avon to pursue his passion in theatre in London, where his work eventually thrived and made him a famous and wealthy man.
It's Twelfth Night, and time for a comic tale of mismatched lovers and mischief… Duke Orsino loves Olivia, Olivia loves the Duke's servant, and the servant loves the Duke. How will they all live happily ever after?
When a ghostly figure appears to Prince Hamlet, he discovers the dreadful truth about his father's death. His quest for revenge leads him into a world of mayhem, madness and murder. Find out how the Prince set out on a path of bloody revenge in this classic tragedy.
The course of true love never did run smooth... more so when there are two fairies who are up to mischief on a midsummer night. This is a magical retelling of Hermia, Helena, Demetrius and Lysander's classic story; and of the impish fairy Puck, who meddles in their tangled web of love with hilarious consequences...
In Venice, the merchant Antonio borrows money to help his friend, Bassanio woo Portia, a beautiful lady. He agrees that a pound of his flesh be taken by Shylock the moneylender if he doesn't repay the money. Shylock demands the gruesome payment when Antonio losses his fortune.... The dramatic scenes, strong characters of this romantic comedy give young readers a taste of love, hate, mercy, friendship in the depth of the Bard's plays.
This is a brilliant story about Macbeth, the bravest general in Scotland, whose burning ambition to be king overcomes all the good in his soul when he sets out on a bloody path to power. Young readers will be introduced to the magical world of Shakespeare with witches, murder and madness.
Scroll down to see more retellings of Shakespeare's plays for young readers about 7+ to discover his magic for themselves.
Also Available:
Total 30 items
Order:
Page / Total 2 pages Each page items
Page / Total 2 pages Each page items