Author of the Month
2018
2017
2016
2015
2014
Your Location: Author of the Month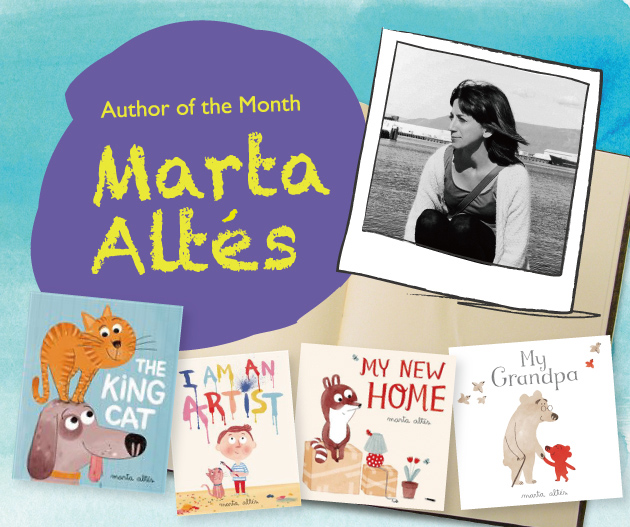 "Mom, may I have this book please?" a child asks. "Look, this one is too easy for you. Let's choose another one." says the mom.
Sometimes we hear moms and dads decline a child's request for a certain book because there are too few words or too many pictures. This might be attributed to the pressure parents feel to teach a child more vocabulary in order to better achieve at school; but the decision to have pictures take a back seat, may be misguided. There is so much for a child to learn from a good picture book. The message that is conveyed in a short story in pictures often is worth a thousand words that can touch its readers and help shape their imagination to develop the narrative themselves at a young age.
It is always exciting to discover new talents who have succeeded to do just that. Marta Altés is one such writer. Having published only four picture books with Macmillan, she moves the hearts of her readers whether she is talking about old age, creativity, change in environment or the relationship between a dog and a cat. She is certainly an author and an illustrator to watch.
About Marta Altés
Marta Altés is the award-winning creator of My Grandpa, I Am an Artist and My New Home. She loves to tell stories and her love of illustration saw her study for a degree in Graphic Design in Barcelona. Marta moved to the UK to study for an MA in Children's Book Illustration at Cambridge School of Art (the best decision she ever made!) and graduated in 2011. Since then she has seen her books translated into 13 different languages. My Grandpa won the Ezra Jack Keats New Illustrator Honour in the US and I Am An Artist was longlisted for the Kate Greenaway Medal. She's also won the Read It Again! Award and the Nottingham Children's Book Award and her first book NO! (Child's Play) was shortlisted for the Peoples Book Prize and the Waterstones Picture Book Prize. Marta lives in London.
Find out more about Marta Altés:
Her Facebook
Her website
A cat's life isn't always easy. One day you're king of the house and then everything changes… This is exactly what happens to King Cat in Marta Altés' new book; he has to deal with a newcomer, a dog who is dribbly and disgusting!
Obviously, King Cat has to learn to get along with the dog; so do children when they have to welcome a new member to their families. This is a fantastically funny story to share with children on friendship, compromise and adjustment to change.
Moving to a new place can be quite unsettling. In My New Home, a little raccoon feels a bit scared and lonely in his new home and misses his old friends, but he soon discovers that loneliness disappears when new adventures happen. The reassuring message is perfect to soothe children who are about to start anew in an unfamiliar environment.
Children are imaginative. It is unfortunate that adults don't see eye to eye with them.
In I Am An Artist, a little boy can't stop creating art. He sees art everywhere! In colours, shapes, textures and movement! Everything inspires him! His materials for creation range from a banana, a broken mirror, the fridge… even to his own body. However, his mum is not amused. So he decides to make something for her, something special, to make her smile. And the result is breathtaking… and hilarious!
This is an amusing, heartwarming and inspirational book for all artists and artists-to-be as it is sure to bring out the artist in many a child.
It is sad to see our loved ones getting old and fragile but it is a reality that we all have to come to terms with. In My Grandpa, Marta Altés looks at ageing through the special relationship between a grandpa bear and his grandson. Using only three colours, red, brown and black, the author-illustrator has created some simple but expressive drawings on a sparse white background to tell the story of an ageing grandpa who is very much loved by his grandson. Grandpa is getting old, he is sometimes lonely, he sometimes behaves like an old man but sometimes he is like a child, sometimes forgetful but his adorable grandson loves him the way he is. This is a moving book to read at bedtime to instill in children the love and respect for the elderly around them.
My Grandpa has won the Ezra Jack Keats New Illustrator Honour in the US.