Author of the Month
2018
2017
2016
2015
2014
Your Location: Author of the Month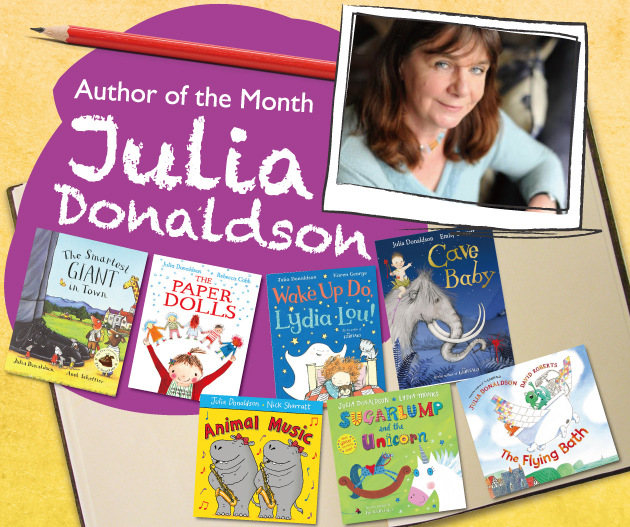 About Julia Donaldson
Julia Donaldson is the outrageously talented, prize-winning author of the world's best-loved children's books, and was the 2011-2013 Children's Laureate.
While growing up, she and her younger sister Mary were always creating imaginary characters or mimicking real ones. Julia studied Drama and French at Bristol University, where she met her husband, a guitar-playing medic, Malcolm.
Her career in singing and songwriting, mainly for children's television, began when she and Malclom went busking together writing songs for each country they visited. One of her television songs, A Squash and A Squeeze, was made into a book in 1993, with illustrations by Axel Scheffler.
Her real breakthrough was The Gruffalo, again illustrated by Axel Scheffler. Now a children's classic and publishing phenomenon; celebrating 15 years this year, it has sold 5 million copies worldwide. It was voted Great Britain's favourite bedtime story on BBC Radio 2 and was adapted and broadcast as an animation on BBC 1 on Christmas Day 2009.
Julia Donaldson has also published works with David Roberts, Nick Sharratt, Karen George, Emily Gravett, Rebecca Cobb, and Lydia Monks. She also writes poems, plays, songs and fiction for older children and together with her husband Malcolm has performed her wonderful stage shows all over the world. They now live in Sussex, where she says she often mulls over ideas for stories in the bath!
Introduction
You probably know The Gruffalo by Julia Donaldson but did you know that in 2014, 40p (HK$5.2) in every £1 (HK$13) spent on picture books in the UK would be spent on a Donaldson title? In 2013, and in the first quarter of 2014, she was the UK's number one bestselling author across all books – children's and adults. This talented and prolific author has so much to offer apart from the Gruffalo monster in the deep, dark wood. She has collaborated with some of the most gifted illustrators in the children's book world to create many imaginative stories to captivate children's hearts. Find out how many you and your child have read!
Her books
The Flying Bath by Julia Donaldson and David Roberts
What do the bath toys do when the children and their Mom are gone? One by one animals from all over the globe are calling in for emergency need of water! From a thirsty kangaroo to a bee, a piglet, a scared baboon to a fish in a pond in Hong Kong! The bath animals fly in the magical bath with a tubful of water to the rescue. Readers here will be sure to be surprised to find the flying bath zooming over the familiar buildings landing on a rooftop in Central; but both time and water are running out! The flying bath has to return home by the end of the day! What is it supposed to do? Young readers will be as thrilled and surprised as the little boy and girl are in the story by the twist at the end. This is a must read especially for Hong Kong fans of Julia. The illustrator, David Roberts' richly detailed pictures especially the ones set in Hong Kong are sure to add to the pleasure in reading this magical adventure.
Also by Julia Donaldson and David Roberts
Sugarlump and the Unicorn by Julia Donaldson and Lydia Monks
When Sugarlump the rocking horse wishes to see the world, a magical unicorn with a silver horn and sparkling blue eyes turns him into a real horse. But after hard work on a farm, the excitement of galloping around a racetrack and even dancing at the circus, Sugarlump misses the children he has left behind. Is it too late? Will he get another wish from the unicorn?
This is the sixth title from the Julia Donaldson and Lydia Monks team, this enchanting story is brought to life in the author's signature catchy rhyming text and illustrator's vibrant and glittery pictures. Your young children will want this to be read over and over again.
Also by Julia Donaldson and Lydia Monks
The Paper Dolls by Julia Donaldson and Rebecca Cobb
Have you and your children ever made paper dolls together? The little girl in The Paper Dolls has, with her mother, created five paper dolls – Ticky, Tacky, Jackie the Backie, Jim with Two Noses and Jo with the Bow - and many stories together until they are snipped up by a boy. The paper dolls however, fly into the little girl's memory and remain there. When she becomes a mother, she makes paper dolls with her child, like the ones she made years before, happily holding hands, jumping, dancing and singing together. This beautiful story of cherished childhood memories, the power of imagination and of bonding between mother and child is inspirational. A young child can simply enjoy the story, the rhyming text and the superb illustrations without understanding the deeper meaning while a parent may get quite emotional!
Inspired by the story, thousands of people the world over have sent in paper dolls to Macmillan, the publisher, to create a paper chain measuring 4.54km in length, breaking the world record by nearly two kilometers on 11 November 2013. The publisher then donated 10p per doll to Save the Children, raising over GPB4,500.

Rebacca & Julia Donaldson and the long long chain!
Cave Baby by Julia Donaldson and Emily Gravett
Get ready for a glorious adventure into the prehistoric age with a cheeky little baby who is told off by his mom for messing up her cave paintings with spots, stripes, stars, squiggles and zigzags! That night a hairy mammoth takes him on a thrilling ride through a moonlit landscape populated by a sabre-toothed tiger, a leaping hare, and a laughing hyena and even, just maybe, by a big brown bear... But where are they going? And what has it to do with the baby's scribbling on the cave wall?
Find out in this brilliant book illustrated by Emily Gravett who has perfectly delivered Julia's message on children's creativity.
The Smartest Giant in Town by Julia Donaldson and Axel Scheffler
First published in 2002, The Smartest Giant in Town is another gem by the Julia Donaldson and Axel Scheffler team. George, the scruffiest giant, decides one day he wants a new look when he sees a new shop which sells giant-size clothes. Soon after he has put on his new clothes, he meets various animals who need his help…and his clothes. What is George to do? This heartwarming story of a selfless giant with a giant heart is the perfect bed time story for every household.
Also by Julia Donaldson and Axel Scheffler
Wake Up Do, Lydia Lou! By Julia Donaldson and Karen George
A little ghost tries to give Lydia Lou a scare… but he can't even wake her up. So he fetches his noisy animal friends to help: Mew! Moo! Too-whit too-whoo!
Wake up do, Lydia Lou! Will anything ever wake her?
This gentle and playful bedtime read is full of fun sounds which children will love to join in with time and time again.
Also by Julia Donaldson and Karen George
Animal Music by Julia Donaldson and Nick Sharatt
There's harmony in the air when the animals get together for a concert with a difference! Koala's playing his flute, Badger's bashing away on the drums and Squirrel's strumming on the guitar. Sing and dance along – you've never seen a show like it. Trademark Julia Donaldson rhymes and rhythms accompanied by Nick Sharratt's mischievous and funny illustrations make this bright and playful book, a sure winner. Perfect for reading out loud!
Also by Julia Donaldson and Nick Sharatt