Author of the Month
2018
2017
2016
2015
2014
Your Location: Author of the Month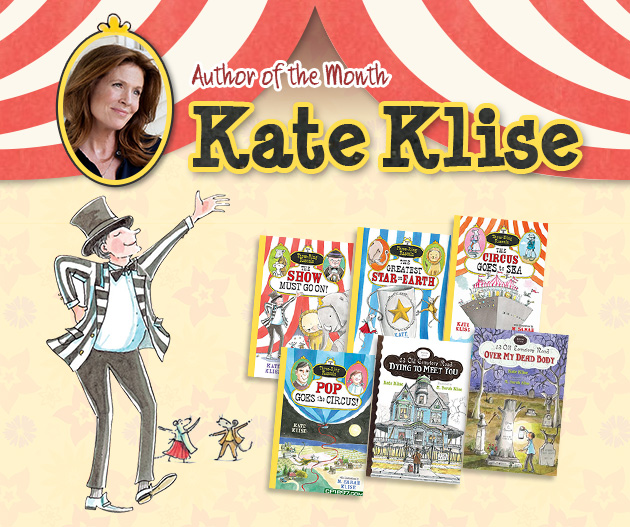 Kate Klise
Catherine "Kate" Klise is an American author of children's literature. Many of her books are illustrated by her sister, M. Sarah Klise. Their popular Regarding series is presented in a scrapbook style format, with letters, journal entries, and related ephemera telling the story. Their works have won numerous awards, including the California Young Readers Medal.
Kate is also known for her picture books as well as the bestselling 43 Old Cemetery Road series. The 43 Old Cemetery Road series balances funny and scary in a way that engages readers. "I know these characters so well," says Kate. "It's fun to spend so much time with characters that you can almost sit back and let them tell the story." She feels this way both as a writer and as a reader. "If I'm interested in the characters, I stick around for the ride–I like them because they are flawed and quirky."
In addition to writing books for young readers, Kate also works as a correspondent for People magazine. Her assignments have included stories about Brad Pitt, Nelly, and the BTK serial killer in Wichita.
Kate Klise is now living on her 40-acre farm in a valley just north of Norwood, Missouri, where she does her writings.
Award includes:
Dying to Meet You (43 Old Cemetery Road, Book one)
- West Virginia Children's Choice Book Award 2010-2011
- Singapore Red Dot Book Award 2009-2010
- The Society of School Librarians International Book Award 2009
The Show Must Go On!
- Amazon Best Book of 2013
Gustav Gloom Series:
Total 6 items
Order:
Page / Total 1 pages Each page items
Page / Total 1 pages Each page items