Author of the Month
2018
2017
2016
2015
2014
Your Location: Author of the Month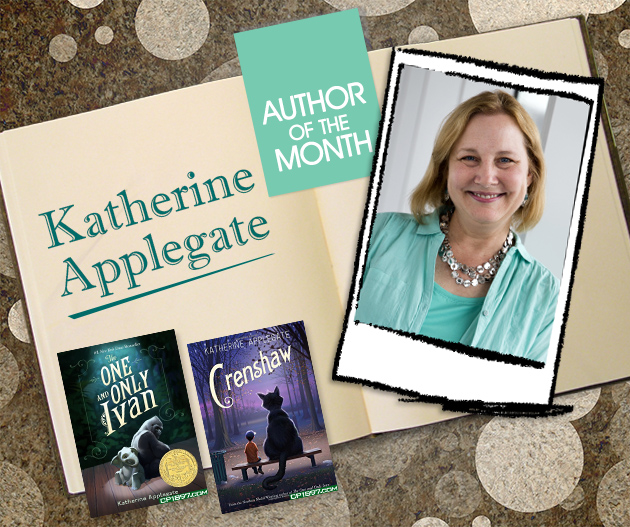 Katherine Applegate
Katherine Applegate was born in Michigan in 1956. She is an American young adult and children's fiction writer. Katherine Applegate's many books include the Roscoe Riley Rules chapter book series, the picture book The Buffalo Storm, and the award-winning novel Home of the Brave. With her husband, Michael Grant, she wrote the hugely popular series Animorphs, which has sold more than 35 million copies worldwide.
Her novel Home of the Brave was awarded the 2008 Golden Kite Award for Best Fiction, the Bank Street 2008 Josette Frank Award for children's fiction, and was a Judy Lopez Memorial Award honor book.
In 2013, The One and Only Ivan was awarded the John Newbery Medal for the most distinguished contribution to American literature for children.
Inspired by the true story of a captive gorilla known as Ivan, this illustrated novel is told from the point-of-view of Ivan himself.
Having spent 27 years behind the glass walls of his enclosure in a shopping mall, Ivan has grown accustomed to humans watching him. He hardly ever thinks about his life in the jungle. Instead, Ivan occupies himself with television, his friends Stella and Bob, and painting. But when he meets Ruby, a baby elephant taken from the wild, he is forced to see their home, and his art, through new eyes.
Jackson and his family have fallen on hard times. There's no more money for rent. And not much for food, either. His parents, his little sister, and their dog may have to live in their minivan. Again.
Crenshaw is a cat. He's large, he's outspoken, and he's imaginary. He has come back into Jackson's life to help him. But is an imaginary friend enough to save this family from losing everything?