Author of the Month
2018
2017
2016
2015
2014
Your Location: Author of the Month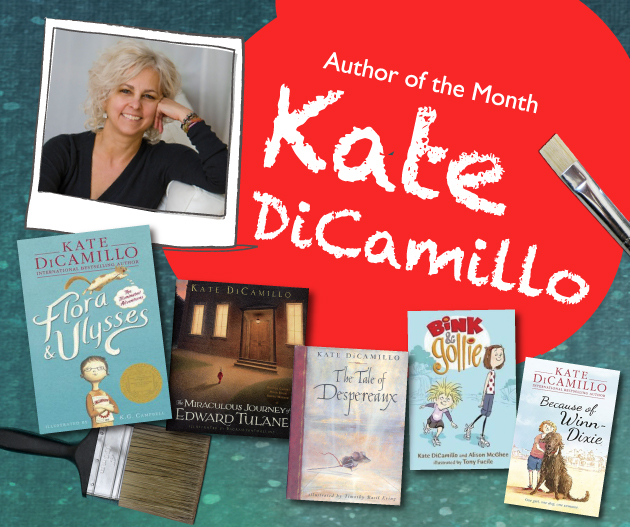 About Kate DiCamillo
Kate DiCamillo is a New York Times bestselling author whose books have been translated into over thirty different languages across the world. She is also a regular winner of awards, most notably the prestigious Newbery Medal, which she won not only for Flora and Ulysses but also for The Tale of Despereaux, which has been made into a feature-length animation by Universal Pictures. About Flora and Ulysses: The Illuminated Adventures, Kate says, "I set out to tell the story of a vacuum cleaner and a squirrel. I ended up writing a book about superheroes, cynics, poetry, love, giant doughnuts, little shepherdess lamps, and how we are all working to find our way home. Seal blubbers!" Kate DiCamillo lives in Minneapolis, USA.
She is currently USA's National Ambassador for Young People's Literature.
Flora and Ulysses (For 8+ Readers)
If you are looking for a funny, witty, original and heartwarming story written in a zany style, Flora and Ulysses: The Illuminated Adventures, winner of the Newbery Medal 2014, by Kate Dicamillo, is the one.
The day Flora Bell Buckman, a ten-year-old natural-born cynic with a penchant for comic books rescues a squirrel sucked into a vacuum cleaner in her neighbour's backyard by breathing into its mouth, both of their lives are changed. The squirrel, now named Ulysses, has super powers of strength, flight, writing poetry on typewriter and understanding humans; while Flora discovers more about herself and her estranged parents and finds a new friend in William Spiver, the great nephew of her neighbour through her relationship with Ulysses. You may even shed a few tears with this laugh-out-loud story about hope and friendship in the end. K.G. Campbell's charming illustrations throughout bring visual life to the lovable cast of characters.
The Tiger Rising (For 8+ Readers)
The Tiger Rising is about a boy who finds out that some things cannot stay locked up forever.
It's six months since Rob's mum died and he moved to Florida. His dad won't talk about her at all. "Crying ain't going to bring her back," he says. So Rob fills a suitcase in his mind with all his forbidden thoughts – the rash on his legs, the bullies at school – and keeps it tight shut. But when he finds a caged tiger deep in the woods, his whole life begins to change. That same day he meets Sistine Bailey, another outsider who's bullied at school. She says they must set the tiger free – and when Rob imagines the tiger rising out of its cage, his suitcase begins to open. The Guardian calls it "A delicate but surprisingly powerful novella." This book is a National Book Award Finalist.
The Miraculous Journey of Edward Tulane (For 8+ Readers)
The Miraculous Journey of Edward Tulane, Abilene loves Edward Tulane, her blue china rabbit, but he is extremely vain and only loves himself. On a voyage to London, Edward falls overboard and from there embarks on an amazing journey. He travels with hobos, works as a scarecrow, comforts a dying child and finally learns what it is to truly love. Kate Dicamillo triumphs again with this beautiful and simple story which conveys the important message of love and not losing the courage to love again after the loss of a loved one. Readers will find themselves caring about what happens to Edward the blue china rabbit as he changes hands and is called different names by different owners and learns to love in the process.
The Tale of Despereaux: Being the Story of a Mouse, a Princess, Some Soup and a Spool of Thread (For 8+ Readers)
The Tale of Despereaux, the book that won the author's first Newbery Medal in 2001, is the story about an "exceptionally large eared, extremely unlikely hero", a story she was asked to write for her best friend's son, and told as four 'books' each of which give a different character's point of view. In the first 'book' it tells the story of Despereaux, a tiny, sickly mouse with unusually large ears who takes his fate into his own hands when he falls in love with the beautiful human Princess Pea. In the second 'book', the story focuses on Chiaroscuro, a rat who ends up in the queen's soup all because he loves the light instead of the darkness in the dungeon. The third 'book' is about a poor, deaf serving girl, who entertains foolish dreams of becoming a princess. Their lives of all these characters are all skillfully interwoven in the fourth 'book'. This charming story of impossible love, of bravery and old-fashioned courage is not to be missed. Highly recommended for reading aloud.
Because of Winn-Dixie (For 8+ Readers)
Because of Winn-Dixie, a 2001 Newbery Honor novel, is now available in a new edition for a new generation of readers. This funny, poignant novel captures life in a quirky Southern town as Opal and her mangy dog, Winn-Dixie, strike up friendships among the locals.
One summer's day, ten-year-old India Opal Buloni goes down to the local supermarket for some groceries – and comes home with a dog. But Winn-Dixie is no ordinary dog. It's because of Winn-Dixie that Opal begins to make friends. And it's because of Winn-Dixie that she finally dares to ask her father about her mother, who left when Opal was three. In fact, as Opal admits, just about everything that happens that summer is because of Winn-Dixie.
Read about the exploits of this most unusual dog and a host of quirky characters in this enchanting tale.
Bink and Gollie (For 6+ Readers)
Bink and Gollie is a series for the slightly younger readers from aged 6. It is a collaboration between Kate DiCamillo and Alison McGhee – energized by the art of Tony Fucile – introducing two outrageously funny little girls!
Bink and Gollie, two precocious little girls – one tiny, one tall, and both irrepressibly funny. Setting out from their super-deluxe tree house and powered by plenty of peanut butter (for Bink) and pancakes (for Gollie), they share three comical adventures involving painfully bright socks, an impromptu trek to the Andes, and a most unlikely marvellous companion. No matter where their roller-skates take them, at the end of the day they will always be the very best of friends!
Other titles in the series: