Author of the Month
2018
2017
2016
2015
2014
Your Location: Author of the Month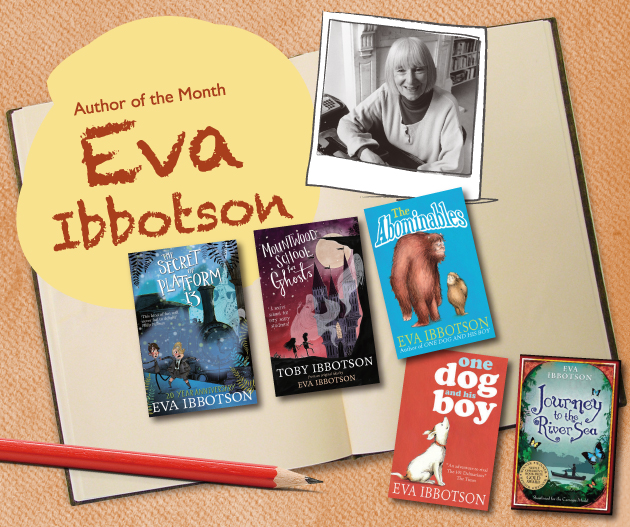 Long before the world heard of Platform 9 3/4 which led Harry Potter to Hogwarts, there was Eva Ibbotson's magical The Secret of Platform 13 about a secret door beneath King's Cross Station in London leading to a mystical island kingdom. This wonderful story for readers aged 9+ celebrates its 20th anniversary with a brand new edition, together with several more of this author's much loved books. Not only that, along with the recent publication of her manuscript of The Abominables in paperback which she remained unpublished when she died in October 2010, this month there is a brand new book called Mountwood School of Ghosts. This title was planned out with her son Toby Ibbotson before her death, so her fans would remember her masterful storytelling. So now is exactly the right moment for us to read Eva Ibbotson's new books and revisit her old ones as we pay tribute to her memory.
About Eva Ibbotson
Eva Ibbotson was born in Vienna in 1925 into a creative, academic Jewish family, but when the Nazis came to power her family fled to England and she was sent to boarding school. She graduated from Cambridge University but gave up being a physiologist because she didn't enjoy doing tests on animals.
She became a writer whilst bringing up her four children and her first children's novel was published in 1975. She wrote more than twenty books for children and young adults, many of which garnered nominations for major awards for children's literature in the UK, including the Nestlé Smarties Book Prize and the Whitbread Prize. Eva's critically acclaimed Journey to the River Sea won the Smarties Gold Medal in 2001 and was runner-up for the Whitbread Chlidren's Book of the Year and the Guardian Children's Fiction Prize. Set in the Amazon, it was written in honour of her deceased husband Alan, a naturalist. Imaginative and humorous, Eva's books often convey her love of nature, in particular the Austrian countryside, which is evident in works such as The Star Of Kazan and A Song For Summer.
The Secret of Platform 13 was shortlisted for the Smarties Prize and celebrates its twentieth anniversary this year. Eva passed away at her home in Newcastle on October 20th 2010, aged 85, a few months before One Dog and His Boy was published. She left behind one completed manuscript for her final children's book, The Abominables, which was published in 2012. Just when her fans were lamenting no more stories from Ibbotson, another turn up for the books arrived in the form of Mountwood School for Ghosts, published under her son, Toby Ibbotson's name, from an original idea by her which they mapped out in fine detail together before she died.
The Secret of Platform 13 (For 9+ Readers)
Before the world had ever heard of Harry Potter and Platform 9 3/4 to the Hogwarts, there was a Platform 13 at King's Cross where a doorway led to a fantastical island. The doorway, however, was opened for only nine days every nine years. Last time it was opened, the island's baby prince was stolen in the streets of London. Now nine years later, a rescue party is sent to find him and bring him home. But the prince is not quite what they expect, he is a spoilt rich boy who doesn't believe in magic and doesn't want to go back. Can they rescue him before the doorway disappears?
This beautifully written fantasy is a delight. It is fun to follow the four rescuers, a wizard, an ogre, a fey and a young hag, Ogre Gribble in their attempt to bring back the prince. Though the story is predictable with the mistaken identity of the prince and the kidnapper's son, it doesn't fail to engross readers with its humour and the author's stylish writing. This imaginative tale has just the right dosage of witchcraft to hook young readers without the story becoming too scary.
The newly designed anniversary edition illustrated by Alex T. Smith, a very up and coming name of the illustrator scene, makes it much more approachable to the 8+ year old readers.
'This kind of fun will never fail to delight' says Philip Pullman. We at Blooming Club couldn't agree more. Highly recommended.
Mountwood School For Ghosts (For 9+ Readers)
Fredegonda, Goneril, and Drusilla are Great Hagges, much more important and much rarer than regular old hags. They think that ghosts these days are decidedly lacking in character and that people haven't been scared of ghosts for years. So one day they decide that something needs to change - it's time for these ghosts to learn a thing or two about being scary. And what better way to teach them than to set up their very own Mountwood School for Ghosts?
But Percy, a young ghost whose parents had applied for Mountwood,misses the bus laid to transport all the new school applicants to School and is instead transported by mistake to a new home in a removal van. It is a sweet little story about how his ghost friendly neighbour Daniel and his best friend Charlotte help him find his parents in Mountwood.
Toby Ibbotson's debut novel reads like a timeless classic. The dilemma of the three ghosts who feel strongly that the standard of ghosts in Great Britain has fallen and their determination to re-educate them is hilarious. It really will tickle readers' imagination.
About Toby Ibbotson
Toby Ibbotson is the eldest son of award-winning author Eva Ibbotson, whose novel, The Abominables, he edited with her first publisher, Marion Lloyd, after his mother died. Mountwood School for Ghosts is his debut novel, and is based on an idea conceived with Eva, and planned out in detail by the two of them before her death. Containing all the warmth, humour and spark of Eva's novels for younger readers, Mountwood School for Ghosts marks Toby out as an exciting new storytelling talent in the children's book world. . He lives in Sweden with his family and writes whenever he can.
The Abominables (For 9+ Readers)
Discovered after Eva Ibbotson's death, the manuscript of The Abominables was previously completely unknown. Published in paperback recently, it is the perfect finale from this master storyteller. This charming, original story is about Agatha Farlingham, a young explorer and aristocrat in the Victorian era, who is kidnapped by a gigantic monster, a yeti, in the middle of the night in her tent in the Himalayas to help the yeti raise his family for 100 years.
But times have changed and many humans are spoiling the peace and quiet of the Himalayas. Fearful for the yeti's future, Lady Agatha enlists the help of two children whose father is the chef of a new hotel and together they devise the most ingenious plan to take the yeti family back to her ancestral home in Farley Towers, Hampshire. This laugh-out-loud story manages to touch on human rights and environmental issues, with subtlety and humour. Sharon Rennta's charming illustrations add to the enchanting quality of this book.
This book was shortlisted for The Guardian Fiction Prize.
One Dog and His Boy (For 9+ Readers)
All Hal wants is a dog. But his parents refuse to let him have one for it will ruin the posh carpets in their beautiful, spotless home. That is, until they discover Easy Pets: a local dog-rental agency. They don't tell Hal that the clever little puppy he chooses is not for life, but only for the weekend. Imagine his desperation when Hal discovers that Fleck, the terrier, has to be returned. Somehow Hal has to find a way to be together with Fleck. As Hal decides to take things in his own hands, he and Fleck trek off to his grandfather in Northumberland together with Pippa, the girl who works at Easy Pet Agency and her five dogs.
This old fashioned canine adventure is a fantastic read for anyone who loves dog stories, and is somewhat reminiscent of One Hundred and One Dalmatians. The bonding between Hal and Fleck is truly touching.
"Eva Ibbotson weaves a magic like no other. Once enchanted, always enchanted." Michael Morpurgo
Journey to the River Sea (For 9+ Readers)
Journey to the River Sea has one of the most memorable heroines in 20th century children's literature and is a glorious book not to be missed. Set at the turn of 20th century, it's the story of an orphaned, but rich, 10 year old girl called Maia, who leaves England to go to Manaus in Brazil to stay with distant relatives who turn out to be mean but need her money. Accompanied by an eccentric governess Miss Minton, the two manage to have fabulous adventures in spite of all the unreasonable rules set by Mrs. Carter, Maia's distant aunt. In contrast to the aloof Carters, our indomitable pair get to know the local people and take part in the search for Finn, the son of a local aristocrat and an Indian, whose friendship with Maia blossoms. Each of the characters is so well developed that the reader even finds oneself caring what happens to the mean-spirited twin cousins and the awful Mrs. Carter! This classic book is full of wisdom for young people highlighting the right kind of attitude to adopt when embarking on journeys to foreign parts. The writing is so evocative it makes you feel like you are right there in the plot with the characters, sharing their emotions whilst exploring the beautiful city of Manaus in Brazil, its Opera House, the Amazon river and enjoying the local customs and colour.
Journey to the River Sea is a journey not to be missed. This enchanting novel is for both boys and girls alike, and adults too!
Other newly reissued titles:
Total 3 items
Order:
Page / Total 1 pages Each page items
Page / Total 1 pages Each page items