Author of the Month
2018
2017
2016
2015
2014
Your Location: Author of the Month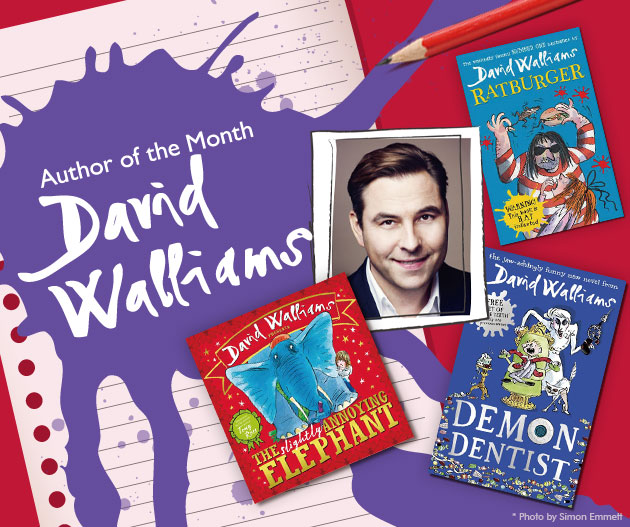 About David Walliams
Many people in Hong Kong might remember David Walliams in his role as a judge on popular TV talent show Britain's Got Talent, but he is more than that!
Since beginning his publishing career in 2008, David Walliams has taken the children's literary world by storm. His sixth book Demon Dentist published in September 2013 not only went straight to number one in the bestseller charts but also won the National Book Award's Children's Book of the Year 2013.
His earlier five books The Boy in the Dress, Mr. Stink, Billionaire Boy, Gangsta Granny and Ratburger all made it to the bestseller lists with the paperback of Gangsta Granny dominating the UK charts in 2013, remaining at number one for a colossal 22 weeks.
He is currently the fastest growing children's author in the UK. His books have achieved unprecedented critical acclaim and it comes as no surprise that countless broadsheet reviewers have compared him to his all-time hero, Roald Dahl.
David is well known for his television work with Matt Lucas. Together they created Little Britain, which has won numerous international awards including three BAFTAs and is now shown in over 100 countries. David and Matt followed Little Britain with the hugely popular spoof airport documentary series Come Fly With Me.
David has also proven himself as a dramatic actor, with acclaimed roles in Stephen Poliakoff's Capturing Mary, in biopic Rather You Than Me and on the West End stage in Harold Pinter's No Man's Land and in Michael Grandage's version of A Midsummer Night's Dream at the Noël Coward Theatre in 2013.
In September 2011 David swam 140 miles from Gloucestershire to Westminster raising £2.5 million for Sports Relief. David has also proved popular on Britain's Got Talent, where he found inspiration for one of the characters in his bestselling novel Ratburger.
His books
The Boy In The Dress (For 9+ Readers)
The Boy in The Dress, David Walliams' debut novel, illustrated by Quentin Blake, was released in 2008. It is about Dennis, a neglected 12-year-old boy who lives in a boring house in a boring street in a boring town. But he's about to find out that when you open your mind, life becomes anything but boring. He is going to dress like a girl and to see the world in a different way. This lively and heartwarming story celebrating difference makes readers laugh out loud. From his first book, Time Out remarked that it "has a lovely Dahlian fluency to it". It is not surprising that with each new publication he is being compared to Roald Dahl and it being called "a new Roald Dahl" by The Times.
Mr. Stink (For 9+ Readers)
Mr. Stink, also by illustrated by Quentin Blake, is a highly original story about Chloe, a very lonely but kind12-year-old girl who befriends Mr. Stink, a tramp in the neighborhood. She even hides him in her garden shed when he need a place to stay, little does she know what it will lead to – both of them being in the limelight when he is used by her hypocritical Mum in her campaign for MP. . This comical and touching story makes a delightful read for both boys and girls.
Billionaire Boy (For 9+ Readers)
Billionaire Boy, illustrated by Tony Ross, is a story about Joe Spud, the richest 12-year-old in the world. His father gives him everything he could ever want: his own Formula One racing car, a thousand pairs of trainers, 8 billion pounds, even an orangutan for a butler, but there is just one thing he really needs: a friend. He and his Dad find out that in the end money cannot buy everything – certainly not a friend and a cuddle. Full of humour and inventiveness, the many situations that Joe is in and the amazing things that are bestowed on him will fill readers with wonder.
Gangsta Granny (For 9+ Readers)
In Gangsta Granny, illustrated by Tony Ross, Ben thinks that his grandma is a real bore until he finds out that she was once the most wanted jewel thief in the world!  The two work together on the most daring robbery the world has ever known – the Crown jewels at the Tower of London! This is a hilarious story but it also conveys an emotional message of prejudice and acceptance which is truly touching. Gangsta Granny was shortlisted for The Red House Children's Book Award 2012 and for the Roald Dahl Funny Prize 2012.
Ratburger (For 9+ Readers)
Ratburger, the fifth David Walliams novel doesn't disappoint, it is hilarious, action-packed and touching. As with the other main characters in previous books, Zoe has a miserable life. Her stepmother Sheila treats her badly and she is bullied in school by Tina Trotts, What's more, now the evil Burt from Burt's Burgers is after her pet rat! And guess what he wants to do with it? The clue is in the title of this book… Oh, no! The wickedly funny book with an excellent plot is especially great to get even reluctant readers into reading. They will love the adventures as well as the sometimes gory details and can't wait to find out it how it will end! The book won the National Book Tokens Children's Book of the Year 2012.
Demon Dentist (For 9+ Readers)
None of us likes going to the dentist, do we? How would you feel if the tooth you put under the pillow for the tooth fairy turns into something other than the magic coin you might have expected to replace it when you wake up in the morning? A dead slug, a live spider or something totally unexpected instead? In Demon Dentist something is very wrong. Evil is at work. Who's behind it? In the author's own words, "Demon Dentist is my very first horror story, with an unspeakably evil villainess at its centre. I hope children of all ages will love the new book's combination of chills, action and of course comedy." The book is National Book Award's Children's Book of the Year 2013. (* Demon Dentist is one of the titles selected for Blooming Club's Book Sharing by Jan Mann on 5 April 2014.)
The Slightly Annoying Elephant (For 3+ Readers)
The Slightly Annoying Elephant is David Walliams' first picture book and he is delighting his loyal fans as the readership is now extended to young children! One day Sam opens his door to an unexpected guest, an enormous blue elephant from Africa - one that he has supposedly adopted but had not expected to actually turn up on his doorstep! What follows is a series of nightmares that are more than slightly annoying! Tony Ross' gorgeous illustrations have completely captured the humour in the chaos created by this big, blue bossy elephant! Young children are sure to roar with laughter.  After reading this book to their children, parents will never forget to read the tiny print on any document they are about to sign to avoid the same mistake that Sam has made!