Author of the Month
2018
2017
2016
2015
2014
Your Location: Author of the Month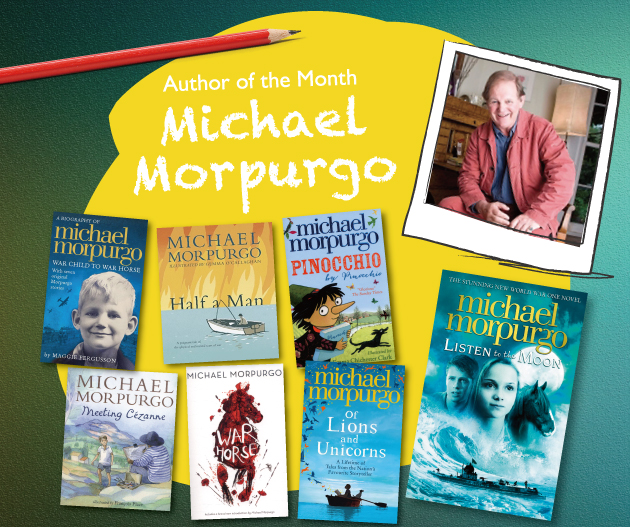 About Michael Morpugo
Michael was born in 1943 in St Albans, in the UK. After university and a brief spell in the army, Michael worked as a teacher for ten years, before leaving to set up 'Farms for City Children' with his wife Clare in 1976. The charity, which now runs three farms, aims to provide children from inner city areas with experience of the countryside. In 1999 the couple were awarded MBEs in recognition of their services to young people. Michael now lives on a farm in Devon, and in his own words, describes himself as "oldish, married with three children, and a grandfather six times over.
Michael Morpurgo, became Children's Laureate from 2003 – 2005; he is one of the greatest storytellers for children writing today and has written over one hundred books, including The Wreck of the Zanzibar, The Butterfly Lion, Kensuke's Kingdom and Private Peaceful, all of which have won major literary awards including the Smarties Book Prize, the Whitbread Award, the Writer's Guild Award and the Children's Book Award . In 2006, he was also awarded an OBE, in recognition of his services to literature.
War Horse, his novel published in 1982, has been successfully adapted as a West End and Broadway theatre play and is now a major film by Steven Spielberg.
Listen to the Moon (For 11+ Readers)
Shortlisted for Costa Children Book Award 2014
In May 1915, Alfie and his fisherman father find a girl on an uninhabited island in the Scillies – injured, thirsty, lost… and with absolutely no memory of who she is or how she came to be there. She can say only one word: Lucy
Where has she come from? Is she a mermaid, the victim of a German U-boat, or even – as some islanders suggest – a German spy…? Only one thing is for sure: she loves music and moonlight and it is when she listens to the gramophone that the glimmers of the girl she once was begin to appear. WW1 is raging, suspicion and fear are growing, and Alfie and Lucy are ever more under threat. But as we begin to see the story of Merry, a girl boarding a great ship for a perilous journey across the ocean, another melody enters the great symphony – and the music begins to resolve…
While the world commemorates the centenary of WW1 in which millions of lives were lost, many lives are still being lost everyday in wars in various parts of the world. When can man learn the lesson? In Listen to the Moon, master storyteller Michael Morpurgo tells a stunning story about family, love, war and forgiveness. He speaks to his readers about the social and moral impact about the war on individuals through his characters in this beautifully woven and well researched story that combined history and fiction. This is a book not to be missed. We hope that Steven Spielberg will make a film of this book too!
"Please invite this wonderful story in, you won't regret it. History is rarely more movingly alive." - a ringing endorsement from author, Morris Gleitzman
Pinocchio by Pinocchio (For 7+ Readers)
First created by Italian writer Carlo Collodi in 1883 and popularised by Disney about half a century ago, Pinocchio has become the world's most famous puppet. So what else is there to write about him?
In Michael Morpurgo's Pinocchio by Pinocchio, the marionette-turned little boy is given a chance to tell his own story, in his own words " so that you can see that no matter what we are made of, we all have an exciting and difficult time of growing up." Together with Emma Chichester Clark's glorious illustrations, the author has brought all the pickles that the cheeky Pinocchio has got himself into and out of to a younger audience as promised. This is a must-read for anyone who wants to see the Pinocchio they have never seen before.
"Michael Morpurgo has made this classic puppet story dance" - The Times
Half a Man (For 8+ Readers)
From a young age, Michael was both fascinated by and afraid of his grandfather. Grandpa's ship was torpedoed during the Second World War, leaving him with terrible burns. Every time he came to stay, Michael was warned by his mother that he must not stare; must not make too much noise; must not ask Grandpa about his past. As he grows older, Michael stays with his grandfather during the summer holiday and as he finally learns the story behind Grandpa's injuries, he gets to know the real man behind the solemn figure from his childhood. Michael starts to see beyond the burns and this gives him the power to begin healing some of the scars that have divided his family for so long.
In Half a Man, the author evokes the memory of his childhood in post-war Britain In the story Michael always wants to know how his grandpa got the burns. While everyone looks away, he looks at his Grandpa, only to look away to be polite. His is rewarded in the end when he is told a story that has never been told and is thanked for looking.
This is poignant tale of the physical and mental scars of war are rightly pitched for children to learn about the effects people long after the war ended. Gemma O' Callaghan's simple and subtle illustrations capture brilliantly the sad mood of this story and the images and the story remain after the story is ended.
"From the first sentence of a Michael Morpurgo book, you know you are in the hands of a natural storyteller." - Guardian
Michael Morpurgo: War Child to War Horse (For 9+ Readers)
This is the definitive book to discover the true story of Michael Morpurgo's life. Michael Morpurgo has written over a hundred brilliant books, won many prizes, and seen his amazing stories turned into movies and record-breaking plays. But what about his own real life story.
How did a boy who dreamed of being an army officer become a bestselling author instead? What true events inspire him to write his most-loved books?
In a unique collaboration, Maggie Fergusson tells Michael's life story – and Michael responds with seven original stories of his very own.
Featuring many new photographs and a special activities section, this is the book for all Morpurgo fans to learn how his background, his growth and the events around him have shaped him into the man he is today.
"A joy to read" – Sunday Telegraph.
Of Lions and Unicorns: A Lifetime of Tales from the Master Storyteller (For 9+ Readers)
Of Lion and Unicorns is a collection of Michael Morpurgo's work featuring 25 enchanting short stories from the length of his extraordinary career, including Dolphin Boy, On Angel Wings and The Silver Swan as well as extracts from twenty five of his best-loved novels, such as Shadow, Kensuke's Kingdom and Born to Run.
Divided into five sections – Only Remembered, Not Just a Shaggy Dog Story, The Pity and the Shame, The Lonely Sea and the Sky and Tales Told and New, the book covers all the favourite themes of Michael Morpurgo's writing – memory, war, animals, folk tales and the sea.
From the first one My Father is a Polar Bear in Only Remembered, readers know they are in the hands of a master storyteller who begins with, "This story is a tissue of truth – mostly. As with many of my stories, I have woven truths together and made from them a truth stranger than fiction. My father was a polar bear – honestly." Who wouldn't want to find out about his polar bear father?
This handsome collection contains also five beautiful full-page illustrations by some of the greatest illustrators of our times: Michael Foreman, Quentin Blake, Christian Birmingham, Peter Baily and Emma Chichester-Clark.
This book is truly a box of delights that readers will love returning to again and again.
Meeting Cezanne (For 7+ Readers)
When 10-year-old Yannick learns that he is to stay with his Aunt Mathilde in the South of France, he cannot believe his luck. If the paintings of his mother's beloved Cezanne are to be believed, surely Provence is paradise itself. So begins an idyllic month for the young boy: roaming the gentle hills and rolling valleys of Aix-en-Provence; daydreaming about his beautiful cousin Amandine; helping in his aunt and uncle's bustling village inn; feeling that he has come to the most wonderful place in the world. Then the idyll is spoilt when an important local comes for dinner and Yannick accidentally destroys a precious drawing the man leaves behind. Yannick is devastated by what he has done, and resolves to put things right. But in so doing he makes a surprising discovery.
Michael Morpurgo's Meeting Cezanne, though targets 7 + readers, is a lovely little book for all ages. It has an interesting story of mistaken identity, the narrative captures the picturesque country scenes of Provence, the busy daily routines of an inn and the young Yannick's longing for his older cousin's smile and attention. Readers will be intrigued soon after the start of the story – how will a boy from the 1960s meet Paul Cezanne as suggested in the title? When the mystery is solved, bringing the story to a happy end, his stay in Provence and his once-in-a-life time encounter with a world famous painter changes a part of Yannick's life forever. Who is the painter? Is it Cezanne? Read the story to find out.
With Francoise Place's gentle and lively watercolour illustrations, the book not only tells a story but serve as an introduction to young readers the world of art.
War Horse (Centenary Edition) (For 9+ Readers)
Now a major film by Steven Spielberg, War Horse needs little introduction. Told from the Joey the war horse's point of view, it is a powerful and thought-provoking story about the futility of war. Originally a farm horse in England, Joey is sold to become a cavalry horse in World War 1. The war takes him to various places including No Man's Land. He works in different capacities, observing the horror of war in different angles and his bravery touches the hearts of people around him. His search for his original owner Albert who has vowed to find him is very touching. This brilliant and emotional story tells you everything your history textbooks don't. Just read it.
This is a special edition with a brand new introduction to commemorate the centenary of World War I.
Other books by Michael Morpugo:
Total 15 items
Order:
Page / Total 1 pages Each page items
Page / Total 1 pages Each page items