Author of the Month
2018
2017
2016
2015
2014
Your Location: Author of the Month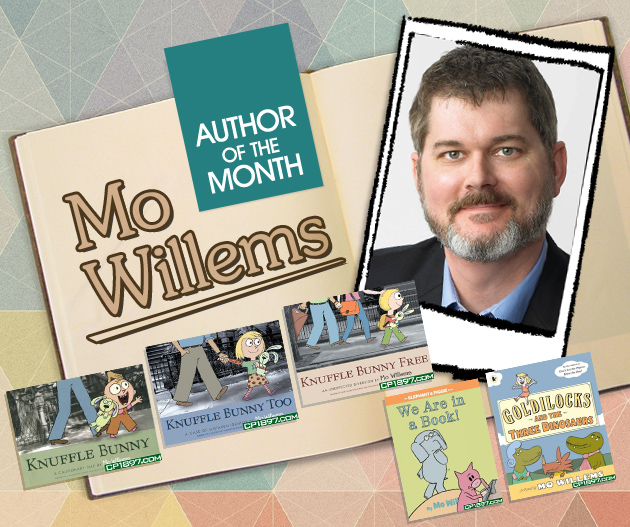 About Mo Willems
Mo Willems was born in American and currently lives in Massachusetts with his family.
Mo works in children's books, animation, television, theater, and bubble gum card painting have garnered him 3 Honors and Awards. He is best known for his characters Knuffle Bunny, The Pigeon, and Elephant and Piggie and he works as a writer and animator for PBS's Sesame Street. Mo also makes sculptures and writes plays and is known for his work on Cartoon Network's Sheep in the Big City and Nickelodeon's The Off-Beats.
His debut effort, Don't Let the Pigeon Drive the Bus! became a New York Times Bestseller and was awarded a Caldecott Honor in 2004. The sequel, Knuffle Bunny Too: a Case of Mistaken Identity garnered Mo his third Caldecott Honor in 2008.
Mo Willems makes funny drawings that hopefully will make you laugh.
Goldilocks and the Three Dinosaurs
Once upon a time, there were three hungry dinosaurs: Papa Dinosaur, Mama Dinosaur and... a Dinosaur who happened to be visiting from Norway. Of course. One day, purely on a whim, they decided to tidy up their house nice and neat, make their beds up all cosy and comfortable, prepare delicious hot chocolate pudding of varying temperatures, place their chairs just so, and go... SOMEWHERE
The visually striking story follows Daddy, Trixie and Knuffle Bunny on their trip to the neighbourhood Laundromat. But their adventure takes a dramatic turn when Trixie realizes some bunny's been left behind...And no matter how hard she tries to tell dad, he just doesn't understand!
Knuffle Bunny Too: A Case of Mistaken Identity
Trixie can't wait to show off her one-of-a-kind Knuffle Bunny at school. But a dreadful surprise awaits... Trixie's bunny is not so one-of-a-kind after all! And matters get worse that night when Trixie realizes that she has brought home the Wrong Bunny! A phone call later, Dad and Trixie are off on a desperate late-night mission to reclaim the real Knuffle Bunny!
Knuffle Bunny Free: An Unexpected Diversion
Knuffle Bunny and Trixie are going on a very exciting holiday abroad to visit "Oma" and "Opa" in Holland. But when they finally get there, Trixie can't find her best friend Knuffle Bunny anywhere! Maybe it's time to set Knuffle Bunny free!
Gerald is careful. Piggie is not. Piggie cannot help smiling. Gerald can.
Gerald and Piggie are best friends.
Gerald and Piggie discover the joy of being read. But what will happen when the book ends?