Author of the Month
2018
2017
2016
2015
2014
Your Location: Author of the Month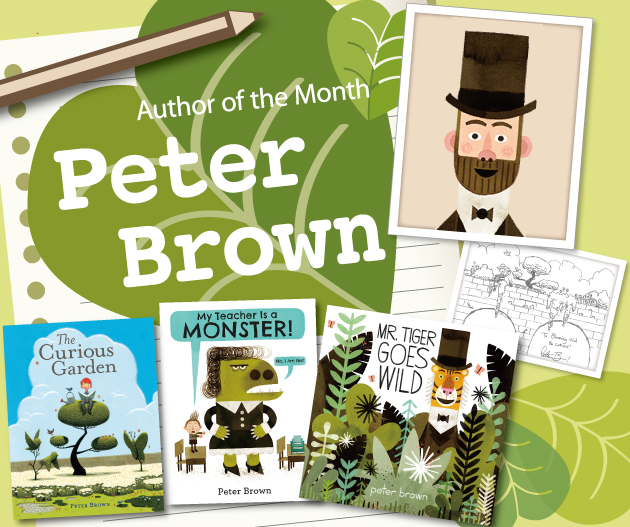 About Peter Brown
Peter Brown writes and illustrates books for young whippersnappers. He grew up in Hopewell, New Jersey, where he spent his time imagining and drawing silly characters. He studied Life Lessons at the School of Hard Knocks, and then got his B.F.A. in Illustration from Art Center College of Design in Pasadena, California.
After college Peter moved to Brooklyn, New York and spent several years painting backgrounds for animated TV shows. And then in 2003 he got a book deal to write and illustrate his first picture book Flight of the Dodo, which is a story that involves bird poop...in case you're into that kind of thing. Since then he has written and illustrated three more picture books, and illustrated several other books for young people. His books have been adapted into plays and animated short films, they have been translated into a dozen languages, and they include the 2010 E.B. White award winner, Children's Choice Award winner, and New York Times bestselling book The Curious Garden.
His books Children Made Terrible Pets, You Will Be My Friend and Creepy Carrots! are also New York Times bestsellers and award winners. Creepy Carrots! Written by Aaron Reynolds is a 2013 Caldecott Honor book. Mr. Tiger Goes Wild, published last year, has won the Boston Globe-Horn Book Award. His latest title, My Teacher is a Monster, has just been published.
To learn more about Peter Brown, visit peterbrownstudio.com
His books
My Teacher is a Monster (No, I am not!)
Dedicated to misunderstood teachers and their misunderstood students, Peter Brown's new book, MyTeacher Is a Monster, has a charming storyline that delights both teachers and students. It will most certainly help them understand each other better too. Robert thinks that Miss Kirby is a monster until he bumps into her in his favourite park. After having spent an enjoyable time together, he finds out that she is not quite the monster he thought she was; as his perception of Miss Kirby gradually changes, so does her appearance. Readers will love Peter Brown's sense of humour which shines through the illustrations - the gradual change of Miss Kirby from having greenish skin to brown to pink, from a more angular shape to a friendlier roundish one, from having paws with claws to human fingers, in short, from having a monster look to a normal human being. But is she still a monster? Readers are going to find out for themselves!
* In a message to Blooming Club, Peter explained the idea behind My Teacher is a Monster.
"The relationship between teachers and students is special. It can also be confusing, especially when the student is a young child. Children have uncontrollable imaginations, which change their experiences with the real world. When I was young, my favorite teachers seemed like family. And my least favorite teachers seemed like monsters. But over time, interacting with those "Monster Teachers" made me realize that they were people, and that they had a lot to offer, despite our differences. In a way, those teachers helped me learn the most important lessons of all. And since we've all known difficult teachers I decided to playfully explore that common experience with my new picture book."
Mr. Tiger lived a perfectly proper life in a perfectly proper city and everything was perfectly fine... until the day he got bored and wanted to be wild. So wild that it was going to be shocking for his friends! He runs off to the wilderness to find out where he really belongs. Peter Brown tells us that it is all right to be different and wild through his simple text in an adorable story with gorgeous illustrations. His clever use of a few wordless pages really shows that a picture is worth a thousand words and young readers will certainly gasp to see Mr. Tiger on all fours, naked and in the wilderness as they turn to those pages. How will his adventure end? You will have to read the story to find out.
The Curious Garden by Peter Brown
The Curious Garden is a magical tale about a little boy called Liam, and his quest for a greener world. When he accidentally discovers a lonely patch of flowers beside an abandoned rail track, he decides that they need a gardener and he takes up the responsibility to care for them. The result is the transformation of the whole city! This beautiful book, with an inspiring message on the protection of the environment, community spirit as well as one person's determination is a book not to be missed by children and adults alike.
This book has won Children's Choice Award: Illustrator of the Year, E.B. White Read Aloud Award.
One day, Lucy the young bear comes across an adorable human boy who she finds so cute that she names him Squeaker (because of the squeaking sound he made), she brings home Squeaker and keeps him as her pet. They are inseparable until things start to go wrong. May be her Mom is right, children make terrible pets? Lucy has a very valuable lesson to learn here.
According to Peter, he once found a frog in the woods and he brought him home to be his pet. His mom who was upset asked him if he would like it if a wild animal made Him his pet. Guess what Peter's answer was? "Absolutely!" That's why we have this hilarious, heartwarming and sweet story about owning a pet from an animal's perspective. This book is a New York Time Bestseller and A New York Time Best Illustrated Children's Book.
One day Lucy wakes up and announces to her Mum that she's going to make a friend. And so her search begins. From a critter to a giraffe, a skunk, an ostrich, even bees, the search continues but things keep going wrong. In fact, the harder she tries the worse it becomes. Will Lucy find her friend? This funny and engaging story about friendship entertains and teaches the important lessons about making new friends in the most charming way. Children will squeak will laughter from the beginning to the end, at both the dialogues in the speech bubbles and the facial expressions in the gorgeous illustrations.