Author of the Month
2018
2017
2016
2015
2014
Your Location: Author of the Month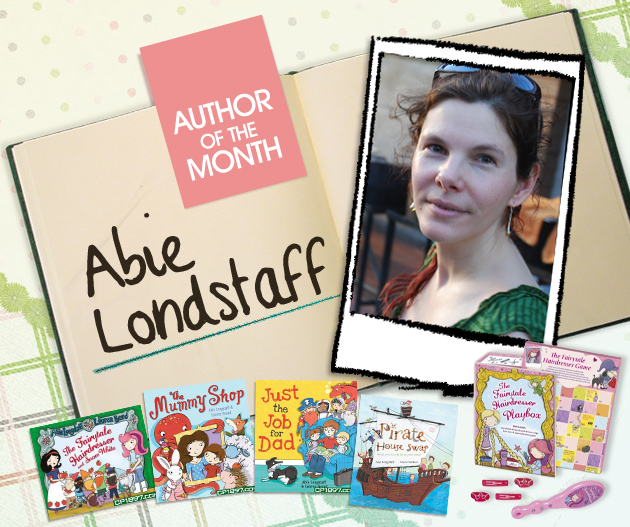 About Abie Londstaff
Abie Longstaff is the eldest of six children and grew up in Australia, Hong Kong and France. She began her career as a barrister. She started writing when her children were born. Her favourite childhood books were Hating Alison Ashley, A Little Princess, Maura's Angel and The Black Stallion and she sneakily reads them again sometimes. Abie lives in North London with her family and a very pesky cocker spaniel who chews the post.
Abie thinks that fairy tales are very important to children. She said, "Fairy tales deal with difficult and dark themes. They help children come to terms with real fears and they encourage empathy for others with less fortunate lives. They are not particularly about magic. They are stories of human behaviour – of struggle, of survival, of hope. They deal with the enduring concepts of love and friendship and the triumph of good over evil. They carry morals (love someone for who they are) as well as warnings (don't talk to strangers)."
Abie believes parents should let children choose what they want to read.
The Fairytale Hairdresser: Playbox
Kittie Lacey is the fairytale hairdresser who serves the most demanding and unusual of customers like Red Riding Hood, the Wicked Witch, Goldilocks and many more of fairy tale characters. A decent haircut really can work wonders!She saves Rapunzel from the Witch's evil plan and also plays cupid for her!
This is a magical playbox set contains the bestselling picture books, sparkly hair clips and hair ties, a full-size hairbrush and a giant unfolding playmat game.
The Fairytale Hairdresser and Snow White
This is the fourth story in the Fairytale Hairdresser series. Kittie Lacey is the best hairdresser in the land. Snow White has fled from the palace and the wicked queen is on her trail. With the help of seven musical dwarves, a magic mirror and a dashing doctor prince, can Kittie Lacey save the day?
Abie continues to fill the story with lots and lots of fairy tale characters. No little princess or prince should be without these stories, filled with fairytale fun and a surprise glitter spread.
Does your mummy tell you off for jumping on your bed? Does she make you eat vegetables when you don't want to?
Call the Mummy Shop now! We will help you find the perfect new mummy. 100% satisfaction guaranteed!
When a little boy grows tired of his mummy, he calls The Mummy Shop for help. But after a number of mishaps and misunderstandings, he starts to think he may have made a big mistake...
A laugh-out-loud tale of one boy's quest to find the perfect mummy...his own!
Dad's job is so dull! But what if, instead of going to boring meetings, Dad was out sailing the seven seas, defeating dragons or speeding through outer-space?
From a pirate ship to an international space station, two siblings search high and low to find just the job for Dad. But perhaps the perfect job is closer than they realise...
A laugh-out-loud tale from the author and illustrator of The Mummy Shop.
Every year the Clark family spent the summer at home in the city. This year they want to do something different with their summer holidays.
The Clarks absolutely can't agree on anything until Dad spots an advert in the paper with the perfect answer - a house swap!
Find out what happens when the Clarks swap their house for a pirate ship, and what the crew of unruly pirates get up to in the Clarks' house...