Author of the Month
2018
2017
2016
2015
2014
Your Location: Author of the Month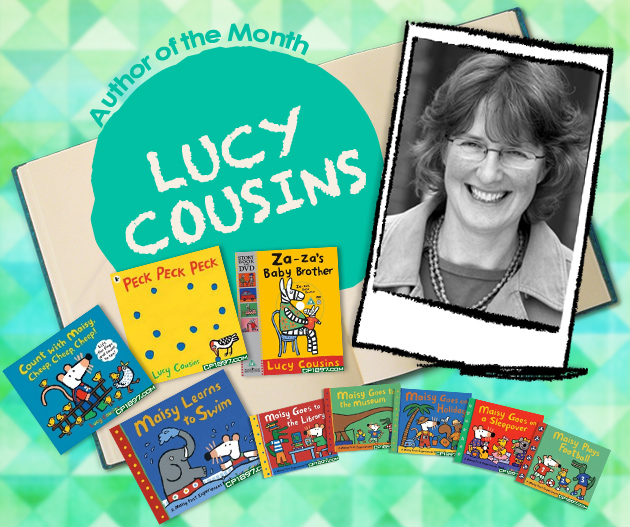 About Lucy Cousins
Lucy Cousins was born in 1964 and completed her foundation course, bachelor degree and postgraduate in Graphic Design in UK. Her first Maisy book was published soon after she left college. Maisy's stories were then made in different form of books including, picture books, sticker books, cloth books, colouring books, board books, lift-the-flap books, 3-D play set clock book. Maisy's House is the book which brought her the first award - the Bologna Ragazzi Non-fiction Prize 1997.
Lucy now has sold more than 31 million books in worldwide and Maisy has become one of the best-loved characters in children's books.
Where did her inspirations come from? "I draw my heart and I think about what children would like by going back to my own childlike instincts." said Lucy. She sometimes influenced by the artworks by children and gets more pleasure and inspiration from walking around primary schools. "When I drew this mouse, I know who she was; I wanted her to be very cheerful, very positive. She doesn't get worried about things. I want small children to feel good and enjoy the story." said Lucy.
Count with Maisy, Cheep Cheep Cheep!
This can be a gateway book to introduce Maisy to toddlers and to bring them the pleasure and enjoyment of reading.
It is already bedtime but Mummy Hen has found that her 10 little chicks have gone missing! Maisy then is soon on the case to search for them, and your children can help, too! There are flaps on each spread and on each spread you can find a chick hiding under one of the flap. Along the journey searching for the chicks, Maisy and children will meet other characters like Cyril driving the tractor and Eddie watering the flowers. Cluck, cluck, cheep, cheep! Find all 10 chicks with Maisy in a farmyard game of hide-and-seek and make sure they get home safely.
This is just the book for parents and toddlers to enjoy fun reading time together with easy rhymes and colorful illustrations.
Today my daddy said to me, "It's time you learnt to peck a tree." Little Woodpecker has just learnt how to peck. He has so much fun pecking everywhere and he was ready to go for his first big pecking adventure! He pecks the hat and then the mat, the tennis racket AND the jacket... just LOOK at all the holes he has made!
Children will be drawn to the young bird's exuberance at learning a new skill.
When a family is having a second child, this can contribute to the behavioral problem for the first child in the family as it is hard for he/she not to feel left out.
Za-Za's family is expecting a new family member! Can Za-Za adjust to having a new arrival on family life? When the new baby arrived, it gets all the attention from visitors and Mum and Dad. Za-za is feeling neglected, demands a cuddle from parents, "Why don't you cuddle the baby?" says Mum. Za-za does it, likes it and enjoys it! After all, it is not too bad having a little brother.
A bright and irresistible picture book about the effect of a new arrival on family life.
Experiencing something new is always a big challenge to toddlers, even to Maisy. How about introduce Maisy to your children and let them go through the challenge together?
Maisy's a little nervous. Today she is going on her very first swimming lesson. There's lots of hustle and bustle in the changing room and the pool looks SO big and it's ever so splish-splashy! Luckily, Eddie and Tallulah have come along too and they all have a great swimming teacher called Poppy, the hippo. Everyone has lots to learn, including floating, kicking and blowing bubbles, but it's a lot of fun!
Maisy has gone for some other adventures. Let's Maisy tells your children how exciting they were!
Some Other Titles by Lucy Cousins
Total 10 items
Order:
Page / Total 1 pages Each page items
Page / Total 1 pages Each page items